Inroduction
About this Recipe
There are few meals that truly nourish my body and comfort my soul all at once, and a big bowl of curry is one of them! Paired with some noodles to soak up that creamy sauce is the icing on the cake for me. I used to believe that a really flavorful curry sauce was complicated to make—especially when you see a laundry list of ingredients for just one recipe. Today, I'm here to show all of you curry lovers that it can be quite simple to achieve a creamy magical sauce—that requires no cooking and only takes 5 minutes to make!
I have for you below a recipe to make a delicious peanut curry noodle dish, with a few ingredients you likely already have hanging out in your pantry. I partnered with Pennsylvania Dutch® Noodles to create this quick vegetarian meal that will have you coming back for seconds every time. I used the 'Extra Wide' Egg Noodles for this recipe, along with creamy peanut butter for the sauce. We begin by cooking the noodles—then we make sauce with just a bowl and whisk! Once we combine the noodles and sauce—we top it off with some crunchy peanuts. This dish is vegetarian by nature, but you can always add some additional protein if you choose! It makes the perfect easy weeknight meal, side dish or even meal prep for the week!
Ok, so what makes this meal so special? 
Flavor:

The flavor of this sauce is reminiscent of a warm curry noodle dish I used to get at my favorite Thai restaurant in college—salty and pungent with a subtle sweetness. The curry spices are so warming and nourishing, and the peanut butter adds a nutty component. There is also no coconut used in the recipe, which I feel makes the curry flavor less diluted. The savory egg noodles are absorbent and make the most perfect vehicle for the sauce.  

Texture:

The peanut sauce is so creamy—yet there is no milk, cream, or coconut cream! The water thins the consistency out so the flavor stays nice and rich, but the sauce isn't too heavy. Paired with the silky eggs noodles and the crunchy peanuts, this dish is the perfect balance of textures. 

Simplicity:

With less than 15 minutes of prep time, along with a five-minute sauce, the only part that needs to 'cook' is boiling water for the noodles!

Undetectably healthier:

This dish is vegetarian and made with no dairy or refined sugars. Pennsylvania Dutch® Noodles are simply made with Durum wheat flour and eggs.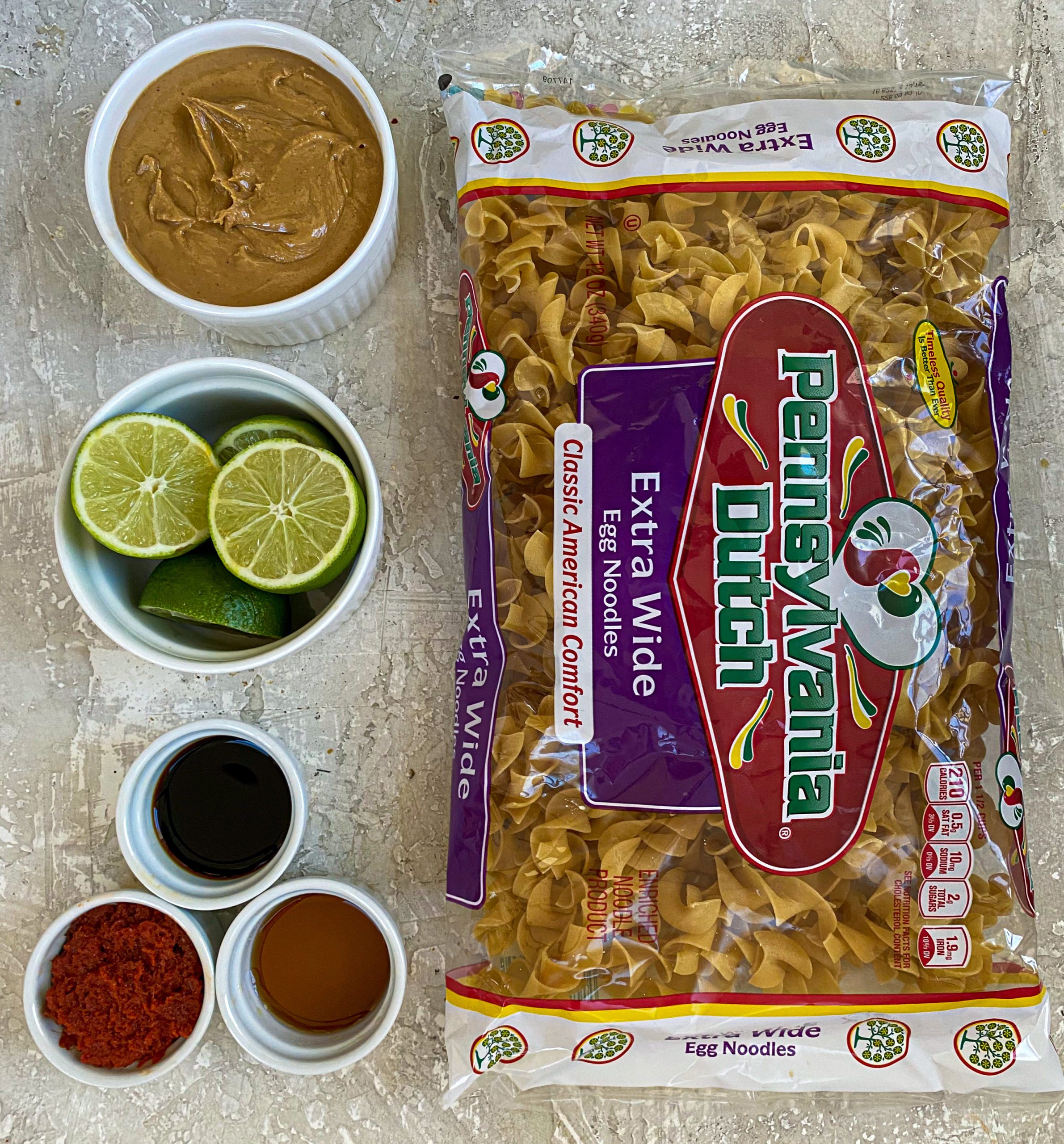 To make this recipe, we start by cooking the Pennsylvania Dutch noodles in a pot of boiling water—to make them slightly al dente, I cook them for roughly nine minutes before draining them. While the noodles are cooking, we make the sauce by whisking together the peanut butter, soy sauce, maple syrup, lime juice, red curry paste and water. The mixture will first look as if it were 'separating,' but trust me— just keep whisking as the ingredients combine and a creamy and smooth texture develops. Once the noodles are done, drain the water and place them in a large bowl then pour the curry sauce over the noodles and toss gently with a wooden spoon until they are evenly coated. Now, you are ready to serve! Top each bowl off with some crunchy, salty peanuts and any other toppings you desire. If you choose to make this dish ahead of time to enjoy later or prep for the week, simply add a splash or two of water before reheating over medium heat on the stove or in the microwave.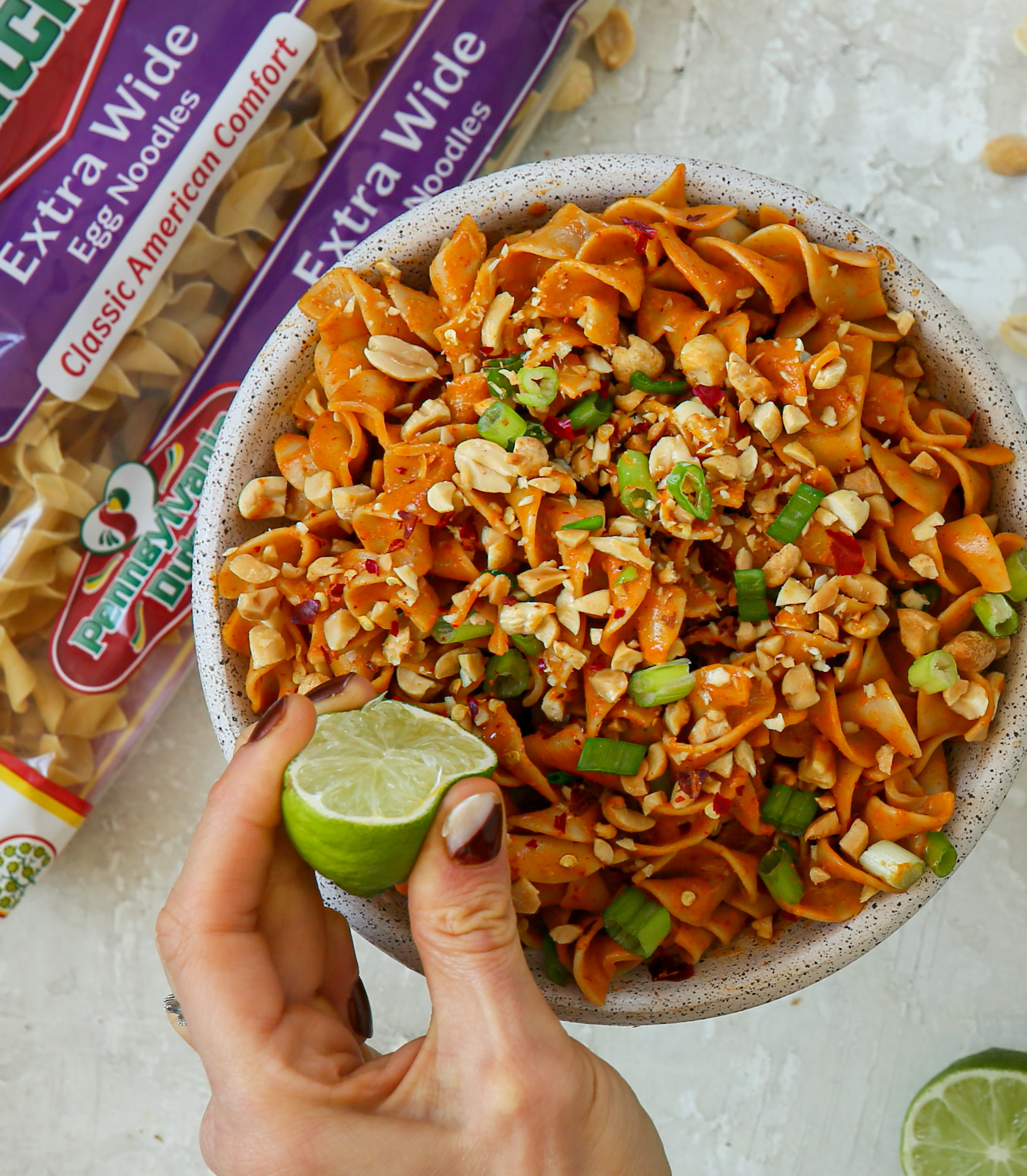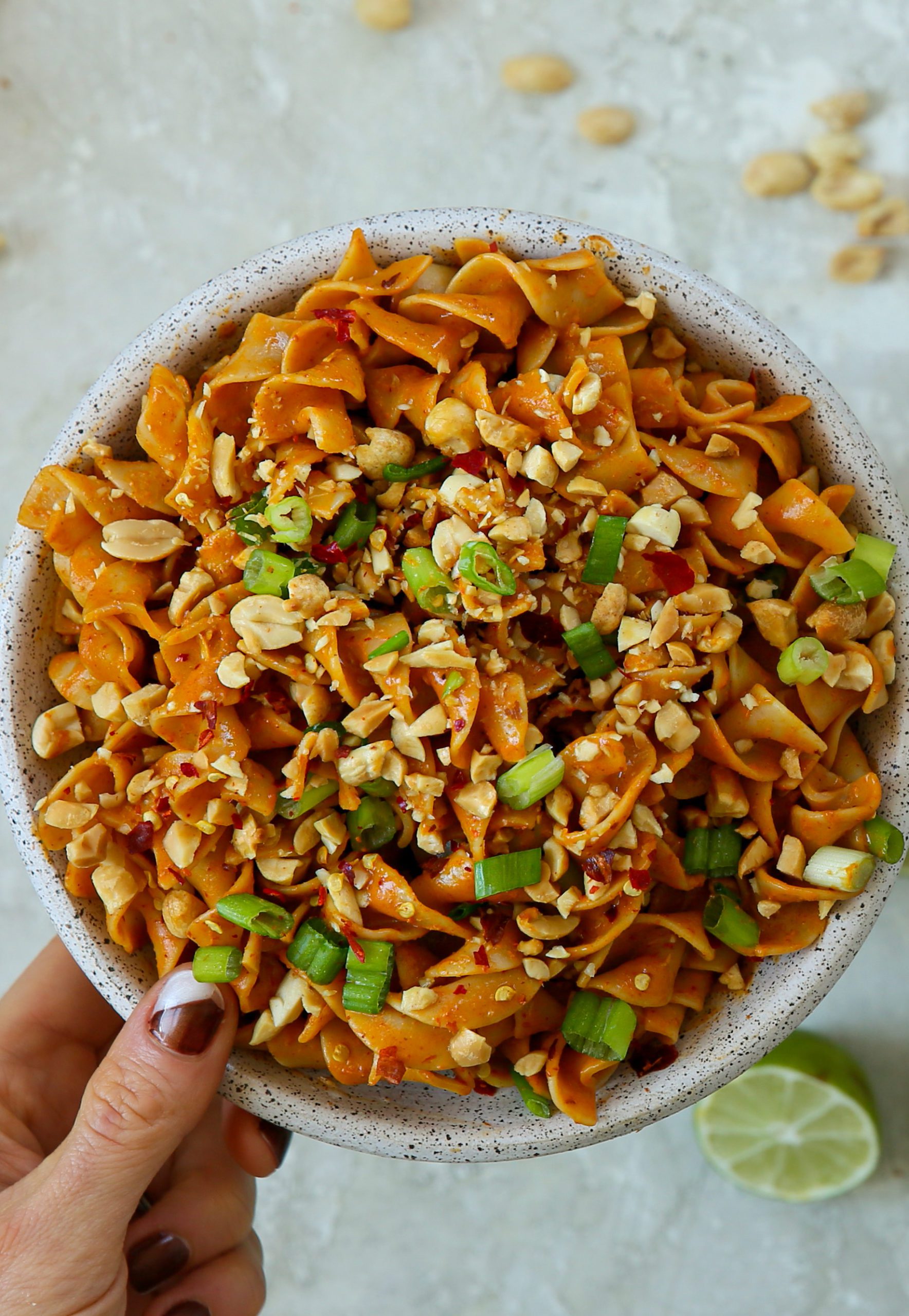 Pennsylvania Dutch® Noodles has been delivering noodles to American families for over 100 years. The Hearty Homestyle variety comes in 12-ounce bags, and is a versatile shape for all sorts of 'everyday' dishes. Like all of Pennsylvania Dutch® Noodles, they are made with 100% North American-grown Durum Semolina and eggs—no artificial colors or flavors.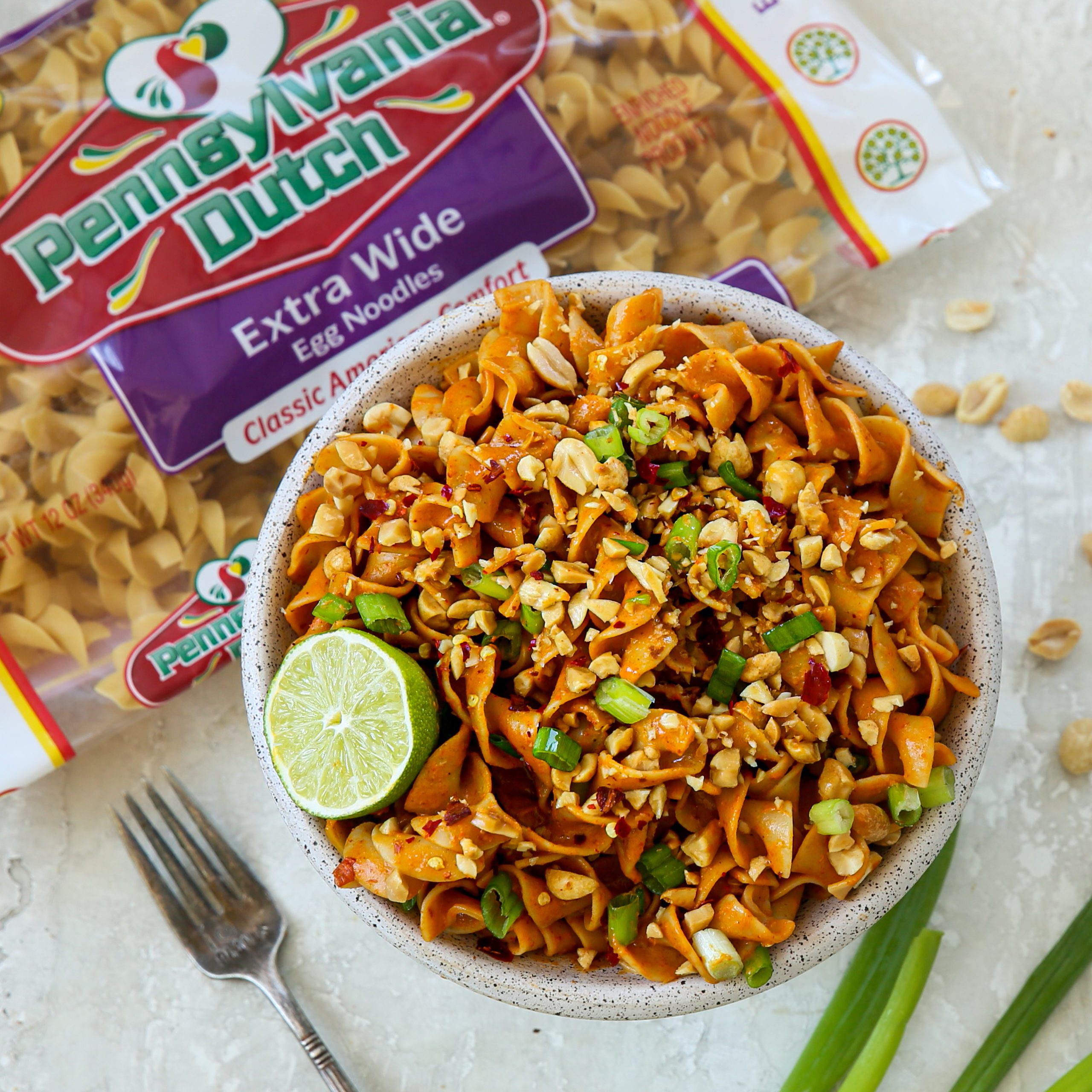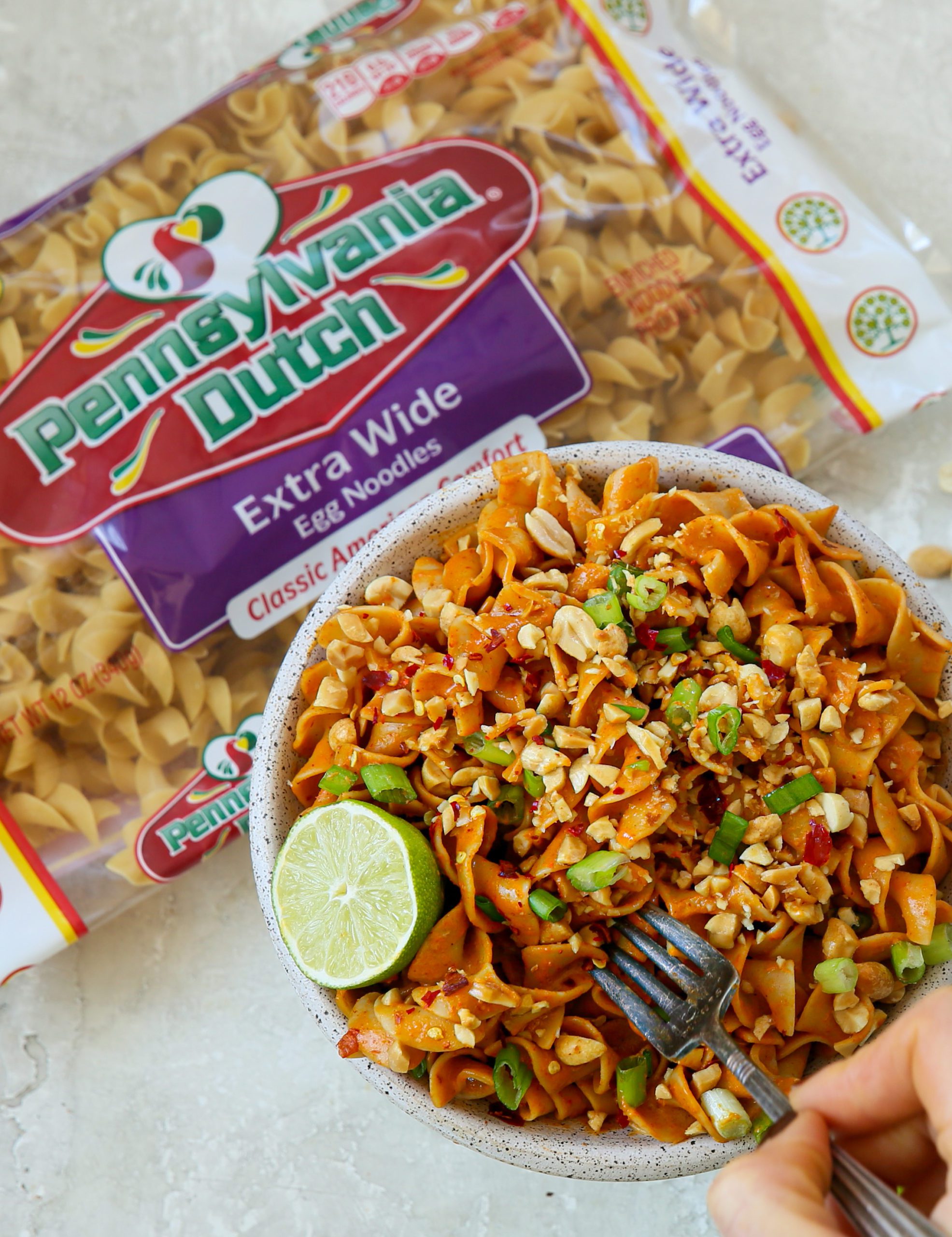 Yield:

4-6
Easy Peanut Curry Egg Noodles
Ingredients
Noodles:
1 12-ounce bag Extra Wide Pennsylvania Dutch Noodles
4 quarts water
Peanut Curry Sauce:
1 cup plus 3 tablespoons creamy peanut butter
2 ½ tablespoons soy sauce
2 ½ tablespoons maple syrup
2 ½ tablespoons lime juice (about 1 ½ limes)
5 tablespoons red curry paste
½ cup plus 2 tablespoons water (or more if needed)
Optional Toppings:
Chopped roasted peanuts (recommended)
Chopped scallions
Red pepper flakes
Instructions
Fill a large saucepan with 4 quarts of water, and heat over high heat to bring the water to a boil.
Add the Pennsylvania Dutch noodles to the boiling water and cook for 9 minutes (for slightly al dente), then drain the noodles and place them in a large mixing bowl.
While the noodles are cooking, make the sauce. Add the peanut butter, soy sauce, maple syrup, lime juice, red curry paste, and water to a medium bowl. Use a whisk and begin whisking the mixture slowly. As the ingredients begin to come together and the water becomes incorporated, whisk more vigorously until the sauce becomes creamy. Set aside. *If you would like a thinner sauce, add 1 tablespoon water at a time until you achieve your desired consistency.
Next, pour the desired amount of sauce over the noodles and use a wooden spoon and gently toss to coat. *If you have any leftover sauce, store for later use. (See note)
Serve the noodles topped with the chopped peanuts, chopped scallions, and red pepper flakes (if using).