Gnocchi is such a fun food to me. Little soft pillows that soak up flavor. Traditionally, these little dumplings are made from potatoes, but it seems in this day in age they can be made from any vegetable! Trader Joe's came out with their infamous cauliflower gnocchi a couple years back, and I immediately became obsessed. I am a cauliflower lover! They are paleo, vegan and full of veggies. I decided to try my hand at making a similar version, and they came out fantastic. I have been making them on repeat in big batches, because they freeze well! I have not tried this with any flour except for Cassava, but the cassava works perfectly. This spinach sauce is a light yet flavorful topping. No stove-top required for the sauce, just a high speed blender!
Paleo Cauliflower Gnocchi with Creamy Garlic Spinach Sauce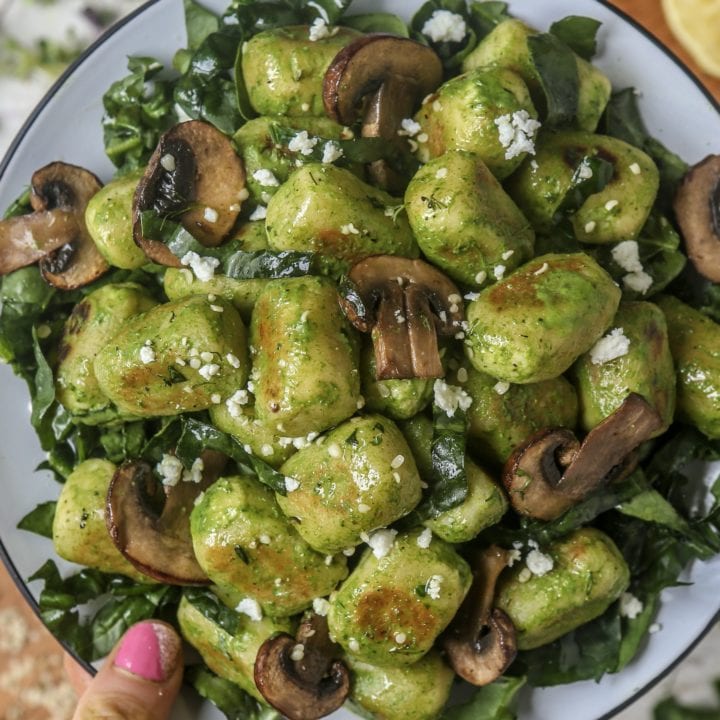 Ingredients
Gnocchi:
1 pound of cauliflower florets
1/2 cup Cassava Flour (75 grams)
1/4 cup Arrowroot Starch (36 grams)
1 1/2 tablespoons olive oil
1/2 teaspoon sea salt
Sauce:
2 cups spinach, packed
3/4 cup almond milk yogurt
1 tablespoon lemon juice
1 tablespoon coconut aminos
1 clove garlic
1 teaspoon fresh dill
1/2 teaspoon salt
1/2 teaspoon pepper
Instructions
Prepare sauce by adding spinach, yogurt, lemon juice, coconut aminos, garlic, dill, salt and pepper to a high speed blender and blend until smooth. Set aside.
Steam cauliflower until tender. (If using a stove top then use a steamer basket, bring 2 inches of water to a boil over high heat and cover for about 12 minutes. If using a pressure cooker, add 1/2 cup water and place cauliflower in steamer basket. Pressure coin for 2 minutes).
While the cauliflower is steaming, add flour, starch and salt to a medium sized bowl. Whisk together.
Remove cauliflower and use a mesh bag or cheesecloth to squeeze as much liquid out as possible (3/4 cup-1 cup).
Add cauliflower to a food processor or high speed blender and process until smooth.
Add the cauliflower purée to the flour mixture and begin to fold together with a fork.
Add olive oil to the mixture and continue mixing until a dough forms (will be slightly sticky.
Roll the dough into 7-8 mini logs about 1/2-3/4 inch thick depending on the size you want. Cut each log into 4 pieces. You can form the shape you'd like with your hand.
You can choose to boil the gnocchi for 2-3 minutes. I suggest sautéing it after if you do boil it. You can also toss in some oil and bake on 400 for about 10-12 minutes. If you have an air fryer, you could also use this method.
Add the spinach sauce or any sauce of your choice with some veggies.
Find what you're looking for