Rocky Road Cookie Skillet!
This gluten-free, oil-free, dairy-free cookie is a BOMB! It's the perfect sweet treat to keep the added sugar out of the holiday season. This chocolate is my favorite to use for sweet treats, because it tastes delicious but doesn't have any added sugar! This skillet is crumbly, melt in your mouth and perfect for a crowd to share. You can make these as bars if you don't have a skillet!
Inroduction
About this Recipe
What You Need
Produce
Eggs
Baking & Spices
Flour
Baking soda
Baking powder
Salt
Coconut sugar
Chocolate
Marshmallows
Liquids
Vanilla extract
Condiments
Tahini
Tools
Bowls
Skillet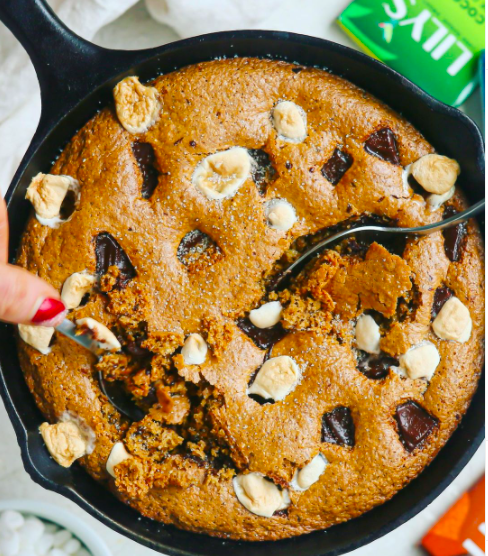 Rocky Road Cookie Skillet!
Ingredients
1.5 cups oats ground into a flour
1/2 teaspoon baking soda
1 teaspoon baking powder
1/4 teaspoon salt
1/4 cup coconut sugar
1/4 cup raw cane sugar
1 teaspoon vanilla
2 tablespoons tahini
2 eggs
1 bar @lilys_sweets chocolate
1/2 cup mini marshmallows
Instructions
Preheat the oven to 350 C.
Mix the oats, salt, baking soda, and baking powder in a medium sized bowl until well blended.
In a separate bowl, mix together sugars, vanilla, tahini and eggs until smooth.
Add the wet ingredients to dry ingredients and mix them together until it becomes a thick batter.
Add chocolate chunks to give a good texture.
Pour the batter to a greased 6 inch cast iron skillet, or a small brownie pan.
Sprinkle marshmallows over the top and bake for 25-30 minutes until firm.