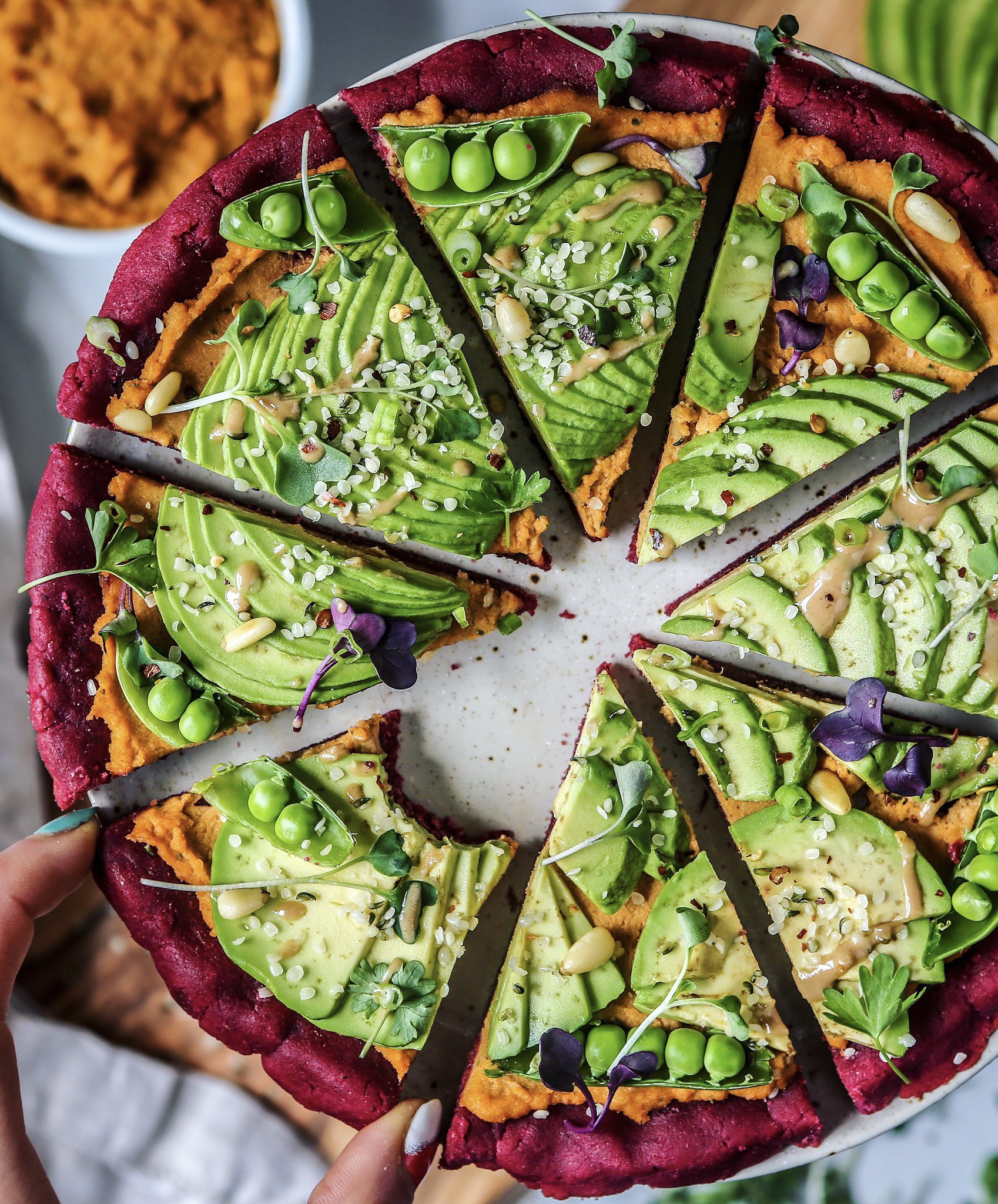 The first time I made this crust was for a dinner party. I had a bunch of leftover beet hummus that I had made and I thought it would be fun to make a falafel-inspired crust. It came out fabulous! I decided to top it with some sun dried tomato hummus, and no lie—the chickpea on chickpea combo was fabulous! Protein packed for sure. Add some creamy avocado on top and some veggies and each slice was a few hearty bites of heaven. One slice is pretty filling, which is why this is meant for a crowd. It makes a perfect and beautiful appetizer idea. Perhaps the next football Sunday party!
Beet "Falafel" Pizza Crust with Sun Dried Tomato Hummus and Avocado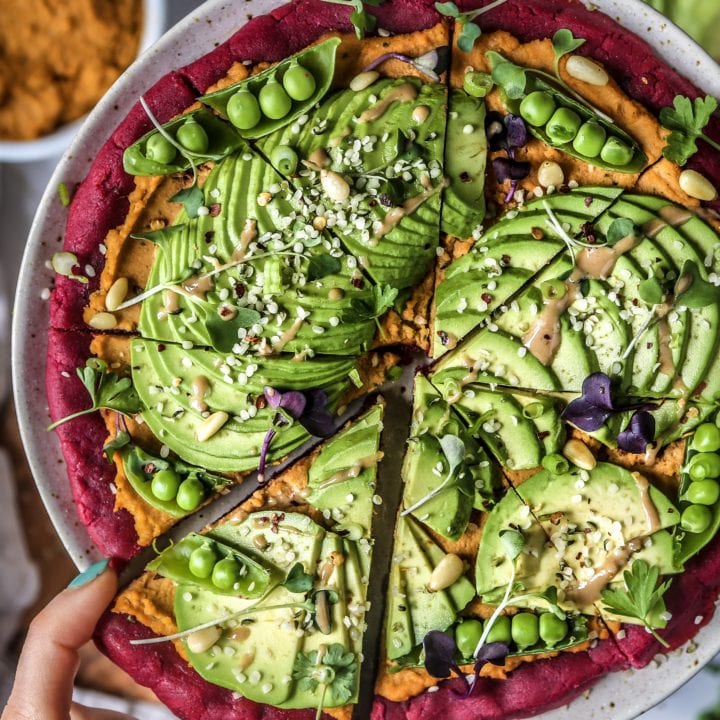 Ingredients
Pizza Crust:
1 Cup beet hummus
1 Cup cassava flour
1/4 Cup olive oil (I added one tablespoon of oil at a time until good consistency.)
Sun Dried Tomato Hummus:
1 can garbanzo beans (salt free and skins removed)
1 clove of garlic
1 tablespoon lemon juice
2 tablespoons tahini
3 tablespoons olive oil (I used from the jar of sun dried tomatoes)
1/4 cup sun dried tomatoes in oil
2-3 tablespoons of water
Salt/pepper to taste (I used 1/2 teaspoon each)
1/4 cup fresh basil
Pinch of red pepper flakes
1/4 cup of water
Instructions
Preheat oven to 400.
In a medium bowl, mix together the hummus, flour and olive oil and form a crust with the dough.
Spread the dough out on top of a parchment paper lined baking sheet.
Bake for about 15-20 mins until cooked through.
While the crust is baking, make the sun dried tomato hummus.
Place garbanzo beans, garlic, lemon juice, Tahini, olive oil, sun dried tomatoes, water, salt, pepper, basil and water In a food processor and process until smooth. (If it needs more water add it in and process more.)
When the crust is done, allow to cool then top with hummus, avocado, veggies and a Tahini drizzle.
Find what you're looking for