Sticky Sesame, Honey, and Miso Sea Scallops
Quick seafood dish with new sweet & tangy sauce!
Inroduction
About this Recipe
You are going to just love this quick seafood dish with my new sweet & tangy sticky sauce! I mean, isn't it amazing how a flavorful sauce can take a meal to the next level? I have for you below a simple scallop recipe to prove how uncomplicated creating a sauce can be. I partnered with NAKANO® Rice Vinegars and Sauces to create an easy-to-prepare dish with just ten ingredients and minimal prep time. It just so happens that this one turned out to be a favorite for the whole household — we've eaten it three times in the last week! I used the Toasted Sesame Rice Vinegar to quickly marinate the scallops, then again to create this luscious sauce with notes of sesame, honey, and miso. The scallops paired with rice and thinly sliced cucumbers make this dish a perfectly healthy dinner option for busy nights!
Ok, so what makes this meal so special?
Taste: The flavors of this dish remind me of that perfect balance of sweet and umami that you'd find eating at an upscale restaurant, minus the price tag of course. The honey adds that sweetness, the fish sauce and the miso add a salty component, the sriracha adds a tiny bit of heat and NAKANO Toasted Sesame Rice Vinegar is the star of the show with the authentic flavors of toasted sesame with a tang from the rice vinegar.
Texture: Scallops, when cooked to perfection, are tender and almost melt in your mouth. Pairing them with cucumbers adds a fresh crunch, and the soft and sticky Jasmine rice soaks up more of that sauce goodness!
Ease: With less than 15 minutes of prep time, along with a quick-cooking protein and sauce, this gourmet dish comes together in no time!
Undetectably healthy: This dish may taste like an upscale comfort dish at a restaurant, but the ingredients are fresh and NAKANO Rice Vinegar is crafted from real rice.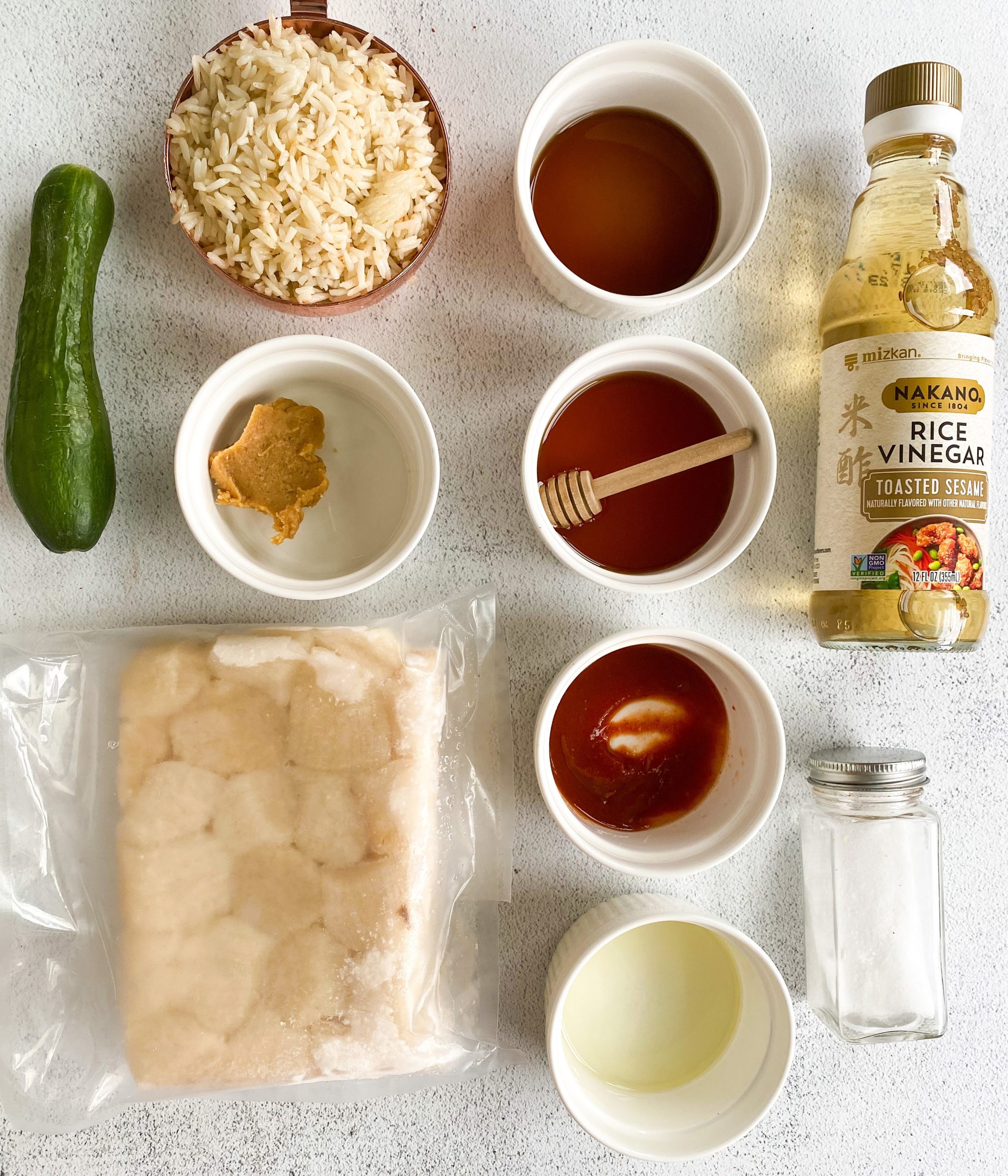 To make this recipe, we start with the sauce by whisking together the rice vinegar, honey, miso, fish sauce, and sriracha and then allowing it to thicken. Once it's done cooking, we quickly marinate the scallops in a little of the Toasted Sesame Rice Vinegar, pat them dry, season them with salt and sear them on each side. Cooking scallops can seem like a challenge if you haven't worked with them before, but it is not difficult! The key to getting a nice crisp sear is making sure they are defrosted, dry and spread out in the pan so that the juices don't add too much moisture to the pan. Because scallops are relatively neutral in flavor, they work well with the bold flavors of this dish.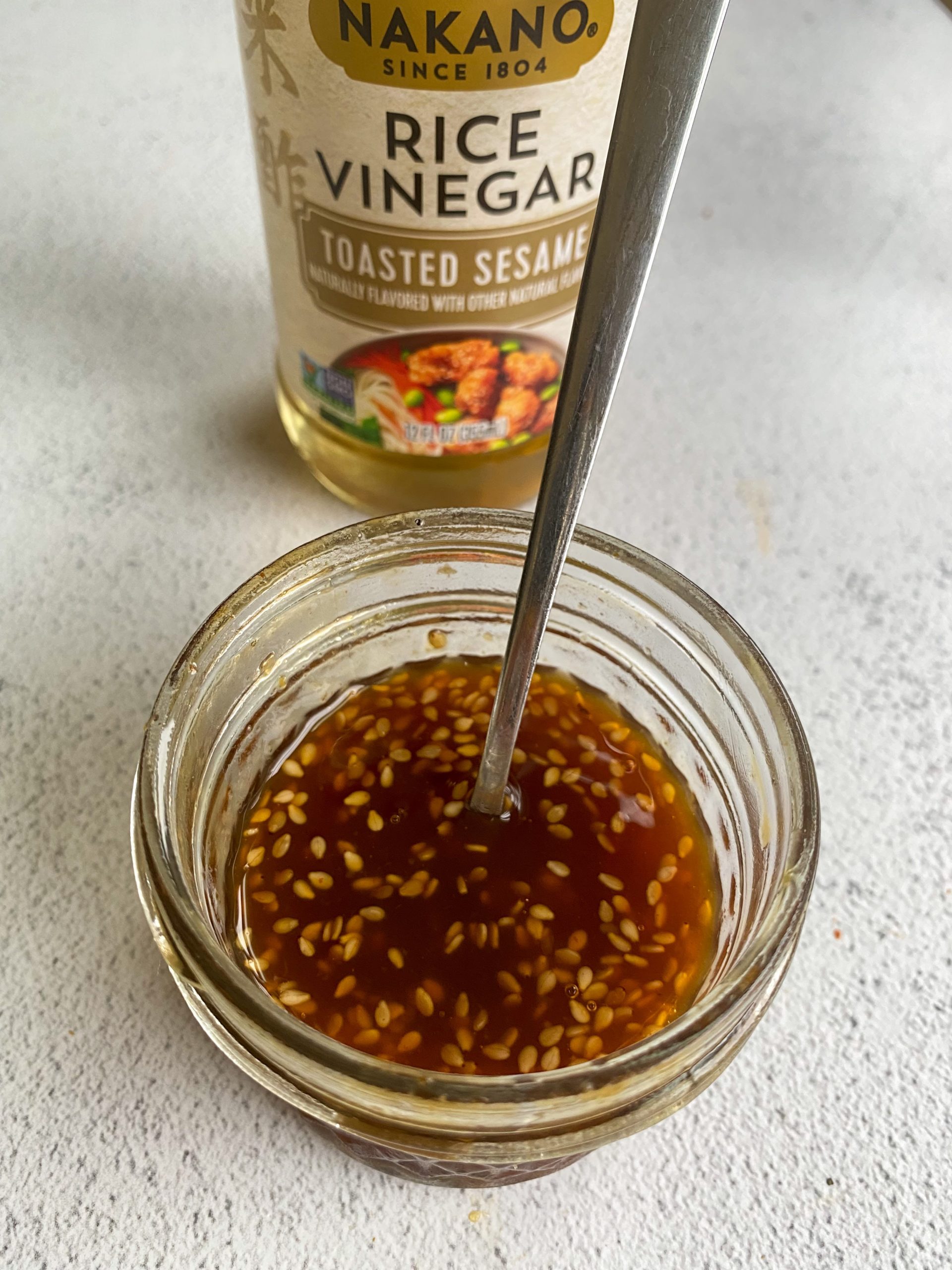 NAKANO has been crafting rice vinegar with authentic flavor since 1804, and they have worked to perfect their legacy with unique, contemporary ingredients. The Toasted Sesame flavor variety has the perfect balance of sweet with sesame undertones, and you only need a small amount —a little splash adds a depth of flavor. Now, as you know I am all about using real foods in my recipes, but I also don't like to compromise the taste. Not only is NAKANO super flavorful, but the ingredients are recognizable—no questions about what you're adding to your dish!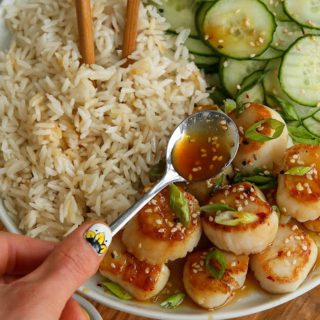 Sticky Sesame, Honey and Miso Sea Scallops
Additional Time:
2 minutes
Ingredients
8 tablespoons NAKANO Toasted Sesame Rice Vinegar, divided
3 tablespoons honey
2 tablespoons white miso paste
2 tablespoons fish sauce
1/2 tablespoon sriracha hot sauce
1 pound sea scallops
Oil, for cooking scallops (I used avocado oil)
Salt
2 cups Jasmine Rice, cooked
1 English Cucumber, thinly sliced
1-2 tablespoons sesame seeds (optional)
Scallions optional (garnish)
Instructions
Add 6 tablespoons of the rice vinegar, honey, miso paste, fish sauce and sriracha to a small saucepan and whisk until smooth. Heat over medium heat until slightly bubbling. Continue to whisk and cook until the sauce is thickened and slightly reduced about 5-8 minutes. Remove from heat and set aside.
Add the sea scallops to a medium bowl with the remainder of the rice vinegar. Toss to combine and allow to sit for about 30 seconds to a minute. Remove the scallops, discard the vinegar, then pat the scallops dry (be sure to remove the moisture) and season both sides with salt. Lightly dry once more.
Heat a pan over medium-high heat, add the oil and then add the scallops. *Do not overcrowd the scallops—you can do this in batches if the pan is not large enough. Cook the scallops for 2 minutes per side, then remove and set on a plate.
Serve the scallops with rice, cucumbers, sauce, sesame seeds, and scallions (if using).