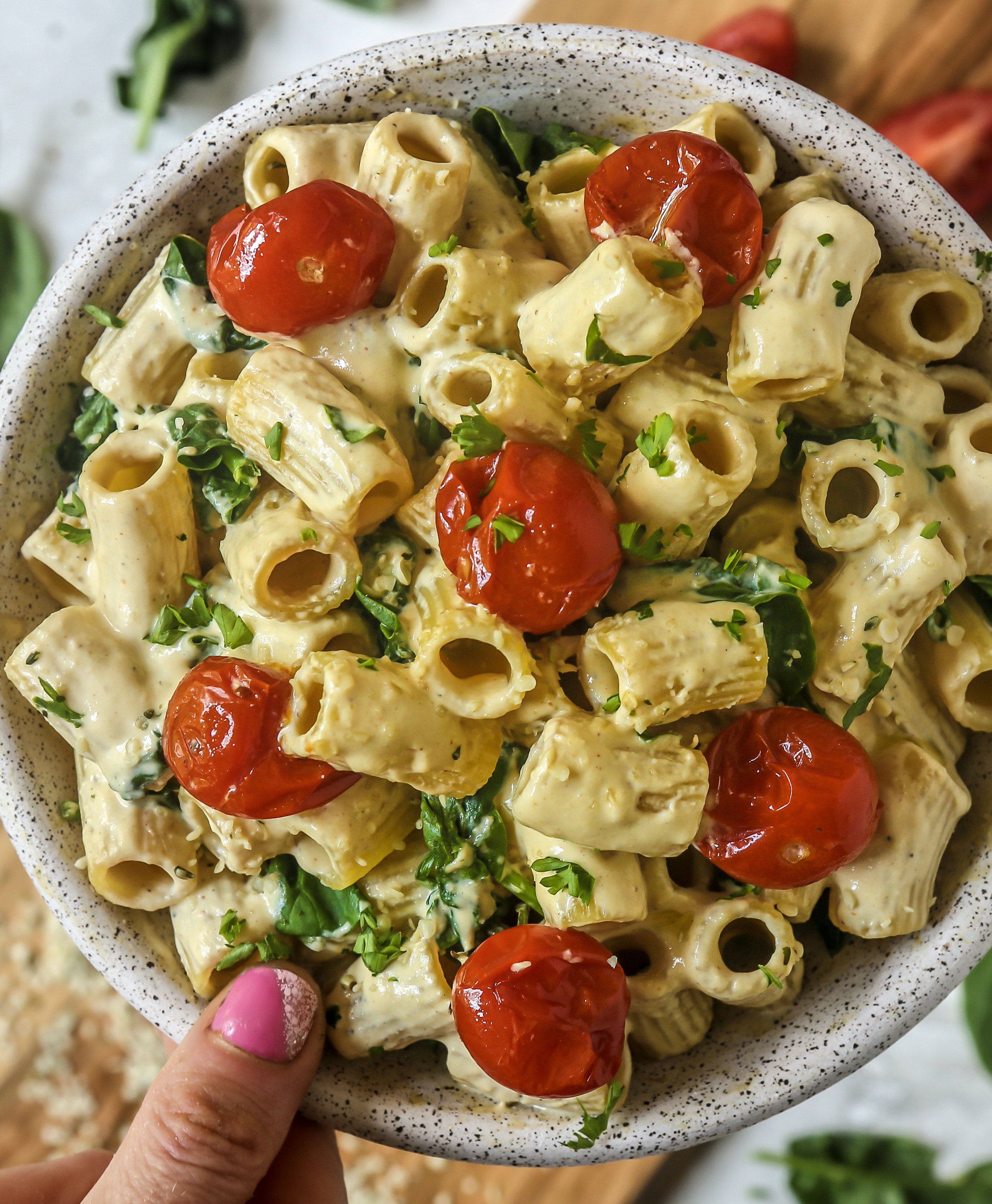 There is nothing like a creamy sauce over some pasta. Probably one of my favorite comforts in life is curling up on a cool fall day with a big bowl. This tahini based sauce is seriously tantalizing to the taste buds. It has a cheesy flavor coupled with a little bit of smoke that comes from the touch of liquid smoke. Pairs perfectly with any veggies that you might want to add. I also love to use this as a dressing on salads. Serve it with any pasta shape!
Smoky Tahini Carbonara Pasta Sauce
Ingredients
1 cup of water or veggie broth
2 cloves garlic, whole
1 small onion, chopped
1/2 cup Tahini
1/4 cup nutritional yeast
1 tablespoon lemon juice
2 teaspoons coconut aminos
1 teaspoon salt
1/2 teaspoon pepper
1/2 teaspoon paprika
1/2 teaspoon onion powder
1/2 teaspoon garlic powder
2 drops liquid smoke
Instructions
Bring 1 cup of broth or water to a boil in a small saucepan.
Add onion and garlic, cover and reduce to medium heat.
Cook for about 12-15 minutes until onion and garlic are tender. Remove from stove, drain and reserve extra liquid.
Add the garlic, onion, Tahini, nutritional yeast, lemon juice, coconut aminos, salt, pepper, paprika, onion powder, garlic powder, liquid smoke along with 1/4 cup of the reserved liquid to a high speed blender. Blend until very smooth. (If you want a thinner sauce, you can add more water.)
Pour over pasta of choice.
Optional: add fresh spinach and toasted tomatoes.

Find what you're looking for