Vegan Iced Oatmeal Cookies (Gluten-Free)
This recipe is a simple one, and the cookies can be made immediately! In less than 30 minutes you have a perfect treat!
Inroduction
About this Recipe
Who remembers Mother's Oatmeal Cookies? You know, those crisp, melt-in-your mouth spiced cookies with a sweet icing. I had a hankering the other night. My boyfriend's favorite type of cookies is oatmeal, so I figured it was a good choice. I looked at a few recipes online and decided to try a vegan version. I've been successful using nut butter in the past, and chose to use a combination of both tahini and almond butter. I didn't want a strong nut butter flavor, so I used the Tahini since it doesn't have a strong flavor in baked goods. The almond butter adds a slight nuttiness. Filled with some spice and a delicious icing, these babies came out perfectly.
The cookies are gluten free and vegan, and they are also free of refined sugar as well as oil. The icing I used does use powdered sugar, but I have provided an alternate if you want to completely avoid the powdered sugar. The texture is crumbly, yet melt in your mouth like the original I remember from childhood. My boyfriend took one bite and all he could say was "wow!" Coming from an oatmeal cookie connoisseur, it was quite the compliment. Especially since I watched him go back for thirds.
I used Bob's Red Mill Gluten Free Old Fashioned Oats for this recipe, but you could use any oats. The key however, is to make sure to pulse the oats before making the cookie dough. This is what makes the batter. Otherwise, you'll end up with chunky oatmeal cookies. You want to pulse the oats about 8 times in a blender or food processor, just enough to break them into more of a meal. Don't over pulse them to the point of a flour, because you still want the oats to be present. Once they are pulsed, add all the dry ingredients together in one bowl, and in this case I combined the oats with white rice flour. This flour is fine, and works well for a cookie that has a delicate texture.
The wet ingredients are pretty simple. Just combine the Tahini, almond butter, maple syrup and vanilla. The vanilla is key for the flavor, as it works with the spices to create that spiced oatmeal flavor. The maple syrup makes the batter thinner than your typical cookie dough, but it allows the cookies to spread more, because for these cookies you want them to spread out.
What You Need
Baking & Spices
Oats
White Rice Flour
Baking soda
Cinnamon
Nutmeg
Salt
Powdered sugar
Condiments
Tahini
Almond butter
Maple syrup
Vanilla
Liquids
Almond milk
Tools
Baking sheet
Blender
Bowls
Whisk
Yield: 12-14
Vegan Iced Oatmeal Cookies (gluten-free)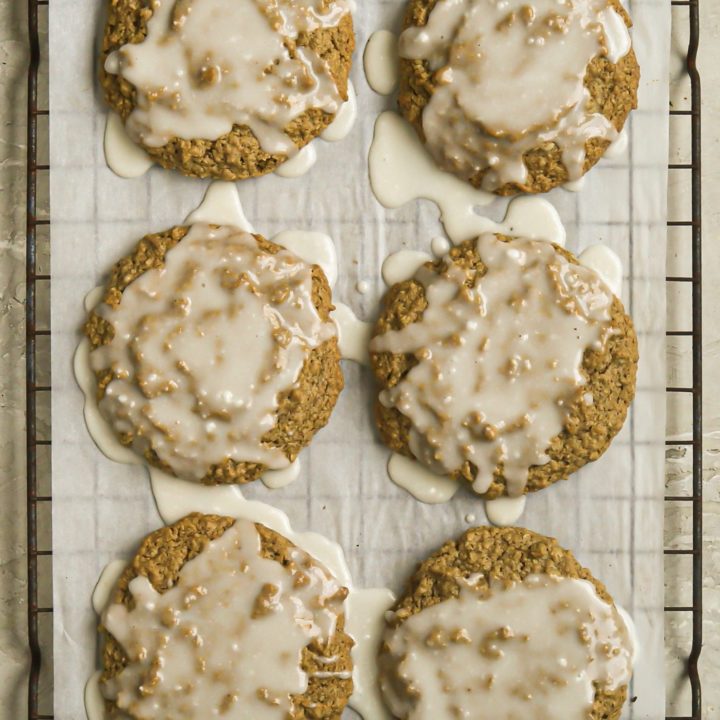 Ingredients
Cookies
1 1/2 cups oats (pulse 8 times to grind them a little)
6 tablespoons white rice flour
1 1/2 teaspoons baking soda
1 1/2 teaspoons cinnamon
1/2 teaspoon nutmeg
1/4 teaspoon salt
6 tablespoons tahini
6 tablespoons almond butter (no oil or sugar added)
3/4 cup maple syrup
1 1/4 teaspoon vanilla, separated
1/4 cup Almond milk
2 cups powdered sugar
Maple Vanilla Glaze (Alternative Cookie Topping)
1 tablespoon water
1 tablespoon maple syrup
6 tablespoons powdered sugar
1/4 teaspoon vanilla
Instructions
Preheat the oven to 350.
Pulse the oats 8 times to grind them a bit.
Add the pulsed oats and the white rice flour, baking soda, cinnamon, nutmeg, and salt to a medium bowl and whisk together.
In a separate bowl, add the tahini, almond butter, 3/4 cup maple syrup and 1 teaspoon vanilla. Whisk the mixture until smooth.
Add the wet ingredients to the dry ingredients and mix them together using a fork or a spoon.
Spoon the batter onto a lined baking sheet, about 2 tablespoons each. Make sure there are about 2 inches between cookies.
Bake the cookies for 14-16 minutes on the middle rack.
While the cookies are baking, make the icing by combining the powdered sugar, almond milk and 1/4 teaspoon vanilla and mixing until smooth. If you prefer, you can use the Maple Vanilla Glaze instead of this icing by combining the water, 1 tablespoon maple syrup, 6 tablespoons powdered sugar, and 1/4 teaspoon vanilla.
Remove the cookies from oven, and allow them to rest for 5 minutes.
Cool the cookies on a baking rack.
Glaze the top of the cookies with icing.