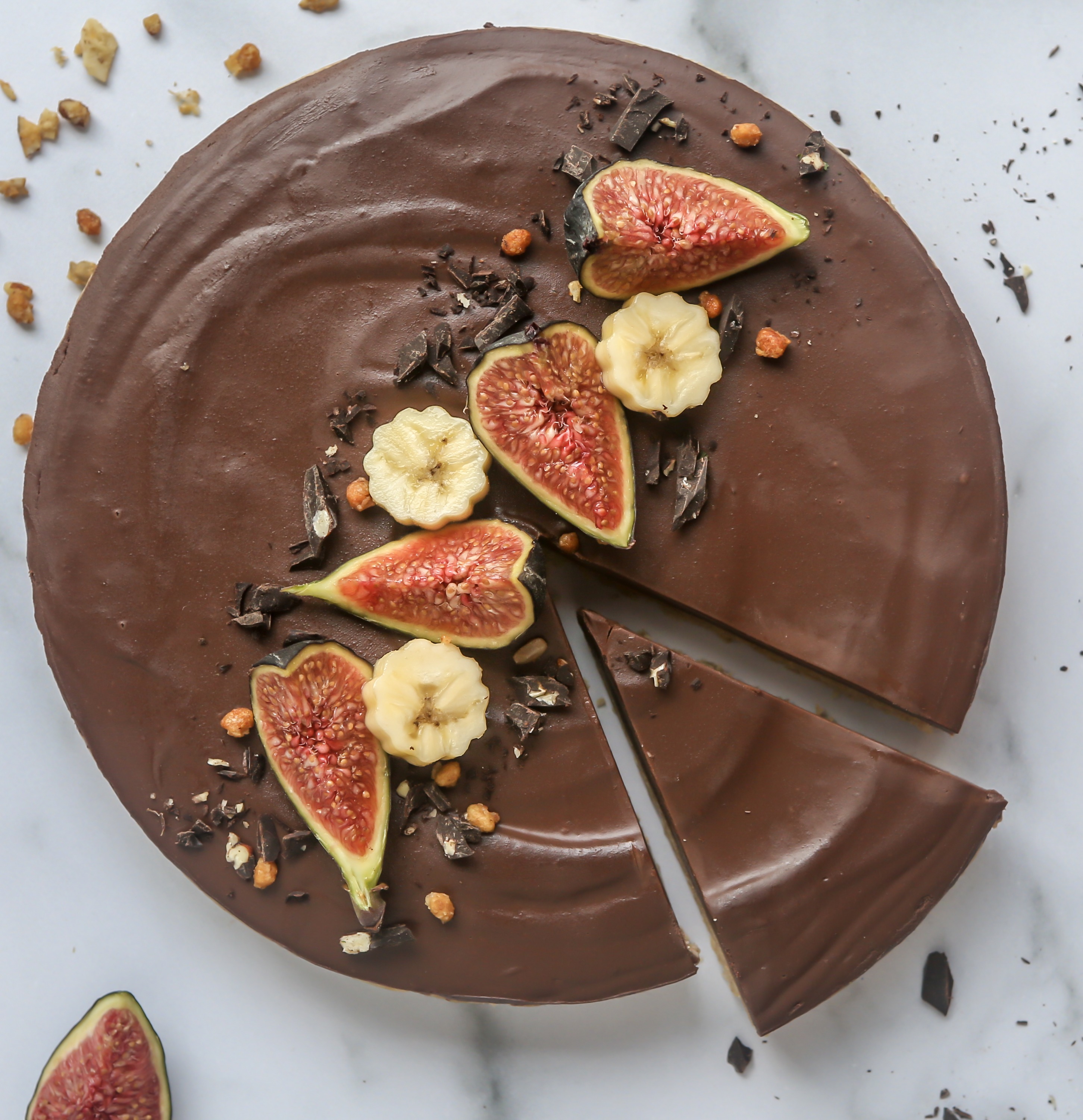 Tarts are probably one of my favorite desserts. They can be light or decadent, and the flavor possibilities are endless. Chocolate will forever have a place in my heart, and this chocolate banana tart is my go to when I'm looking for an easy but fancy dessert. This recipe doesn't call for any baking, and it requires just a simple few steps. The crust is made from cashews and oats, and it has just a small amount of sweet from unrefined coconut sugar. The sweetness in the chocolate filling comes mostly from the bananas. Serve this at your next dinner party and I promise it will be a hit.
Creamy Chocolate Banana Tart with Cashew Oat Crust
Ingredients
Crust:
1 1/2 cups gluten-free oats
1 ¼ cups raw cashews
3 tablespoons coconut sugar
¼ teaspoon salt
4 tablespoons coconut oil, melted
Tart:
1 can full fat coconut milk (refrigerated overnight, liquid removed)
2 ripe bananas
2 tablespoons coconut oil
1 teaspoon vanilla
2 tablespoons cacao powder
1/2 cup vegan chocolate chips
1 teaspoon agar
Instructions
Add oats, cashews, sugar and salt to a high speed blender or food processor. Blend until the mixture becomes a fine powder.
Add the mixture to a bowl, and add the coconut oil.
Mix the oil and oat/cashew mixture until a ball forms.
Press crust into a circular baking pan or pie pan lined with parchment paper.
Place in the refrigerator for about 30 minutes.
Heat coconut milk and bananas over medium high and bring to a low boil.
Reduce heat to medium and allow bananas to soften for about 3-4 minutes.
Remove from heat and add the warm bananas and milk to a high speed blender. Blend until smooth.
Add in the coconut oil, vanilla, cacao powder, chocolate chips and agar. Blend until smooth.
Remove the crust from the fridge. Pour the chocolate mixture over the crust.
Refrigerate for at least 4 hours or overnight until the tart has firmed up.
Find what you're looking for