Coconut Lime Mango Shrimp
In case you need some meal prep or dinner inspo this week: this one is EASY AND BOMB! Serve it up with some rice, noodles, cauliflower rice or veggie noodles.
Inroduction
About this Recipe
Happy Sunday loves! Hope you all had a fabulous weekend. I appreciate all your sweet comments yesterday about my book...I am so that the first part is done! I will give an update when I know the exact launch date. I spent most of the quarantine putting it together, and the timing is great to free up time as life starts to open up a bit...at least here in Boston. Was a bit under the weather this last week, but feeling a lot better today.
If you are looking for a quick filling meal to make for dinner, you will love this Coconut Lime Mango Shrimp bowl. It takes about 30 minutes to make only.
Here are the ingredients you will need to make this Coconut Lime Mango Shrimp bowl.
-fresh scallions
-ground red pepper
-sesame oil
-coconut oil
-fresh ginger
-fresh garlic
-light coconut milk
-fresh limes
-coconut aminos
-coconut sugar
-fish sauce
-salt
-fresh mango
-shrimps
-fresh cilantro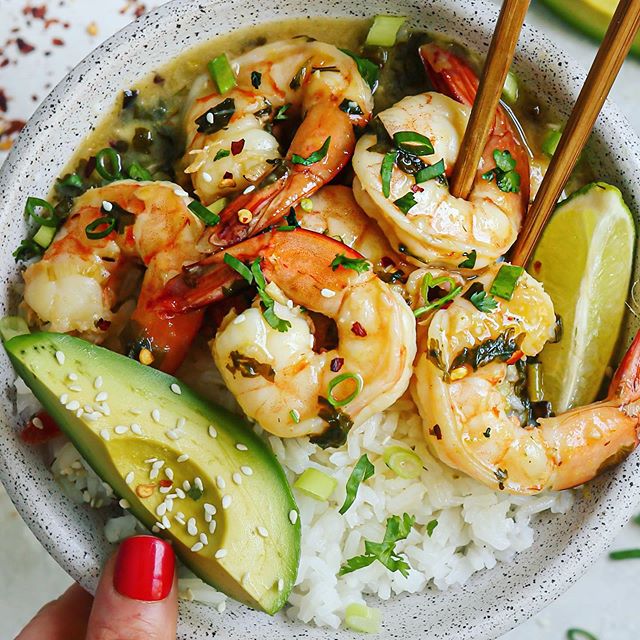 Yield: 4
Coconut Lime Mango Shrimp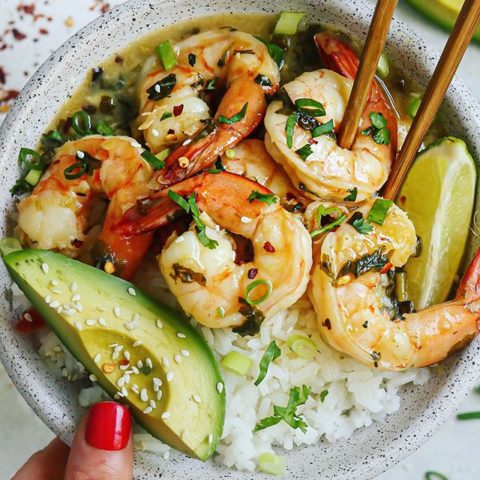 Ingredients
-2 scallions
-1/4 teaspoon red pepper
-1 teaspoon sesame oil
-1 teaspoon coconut oil
-1 tablespoon ginger, minced
-1 tablespoon garlic, minced
-1 can light coconut milk
-1 tablespoon lime juice
-1 teaspoon lime zest
-2 teaspoon coconut aminos
-1 teaspoon coconut sugar
-1 teaspoon fish sauce
-1 teaspoon salt
-1/2 mango, puréed
-1 pound shrimp, peeled
-1/4 cup cilantro, chopped
Instructions
Heat sesame and coconut oil over medium-heat in a saucepan.

Add scallions and red pepper into the pan and saute for about 3 minutes until they are brown. Add the ginger and garlic and sauté for another 2 minutes.

Then, add the coconut milk, coconut sugar, lime juice, lime zest, coconut aminos, salt, mango and fish sauce. Cook for 5 minutes to bring the flavors out.

Add in the shrimps and cilantro and cook for another 5-7 minutes until shrimps are fully cooked. Serve and enjoy!