Grain-Free Cauliflower Stuffing with Apples and Sausage
This Grain-Free Cauliflower Stuffing is packed with goodies like all-natural Italian sausage, mushrooms, cauliflower, apples and savory herbs. It will for sure be a showstopper at your holiday table!
Inroduction
About this Recipe
This stuffing is the perfect side dish for your Thanksgiving dinner. It has the traditional flavors of a Thanksgiving stuffing, but it is packed with veggies and protein. I am not sure about you, but I absolutely love stuffing. There are so many variations out there, and one of my favorite ones is one with apples and sausage, the sweet and savory notes just hit the spot.
For this stuffing, I used cauliflower and a mixture of other veggies to create the base. The sausage adds tons of flavor to the recipe and the pecans add a nice crunch. I used Johnsonville's All-Natural Sweet Italian Sausage for this recipe. It is packed with spices and flavors and made with real ingredients with no nitrates or any other weird ingredients. If you're looking to impress your family with a fresh new side for the holiday, this one's for you! They also have a mild and hot Italian sausage, so you can feel free to switch it up.
What do you need to make this cauliflower?
-olive oil
-cauliflower
-Johnsonville's All Natural Sweet Italian Sausage
-onions
-carrots
-mushrooms
-Garlic
-apples
-Pecans
-dried sage, thyme, rosemary
-ghee or butter
How do you make this Grain-Free Cauliflower Stuffing with Apples and Sausage?
This cauliflower stuffing is really simple to throw together! First, roast the cauliflower until tender and crispy. While the cauliflower is roasting, you will move on to sauteeing the remaining ingredients. When the cauliflower is done, you would fold all the ingredients together. That's it! This is the perfect side for family gatherings.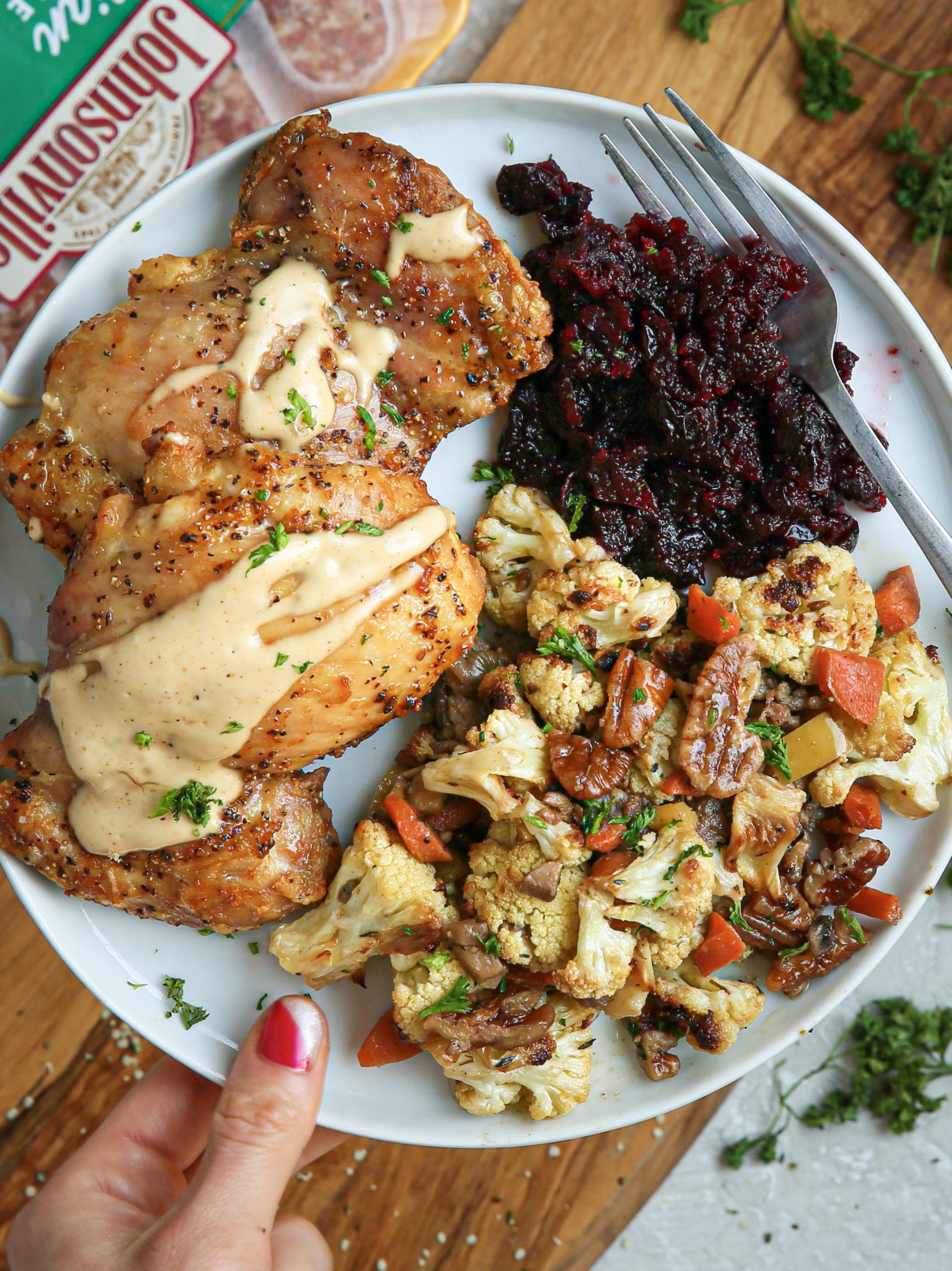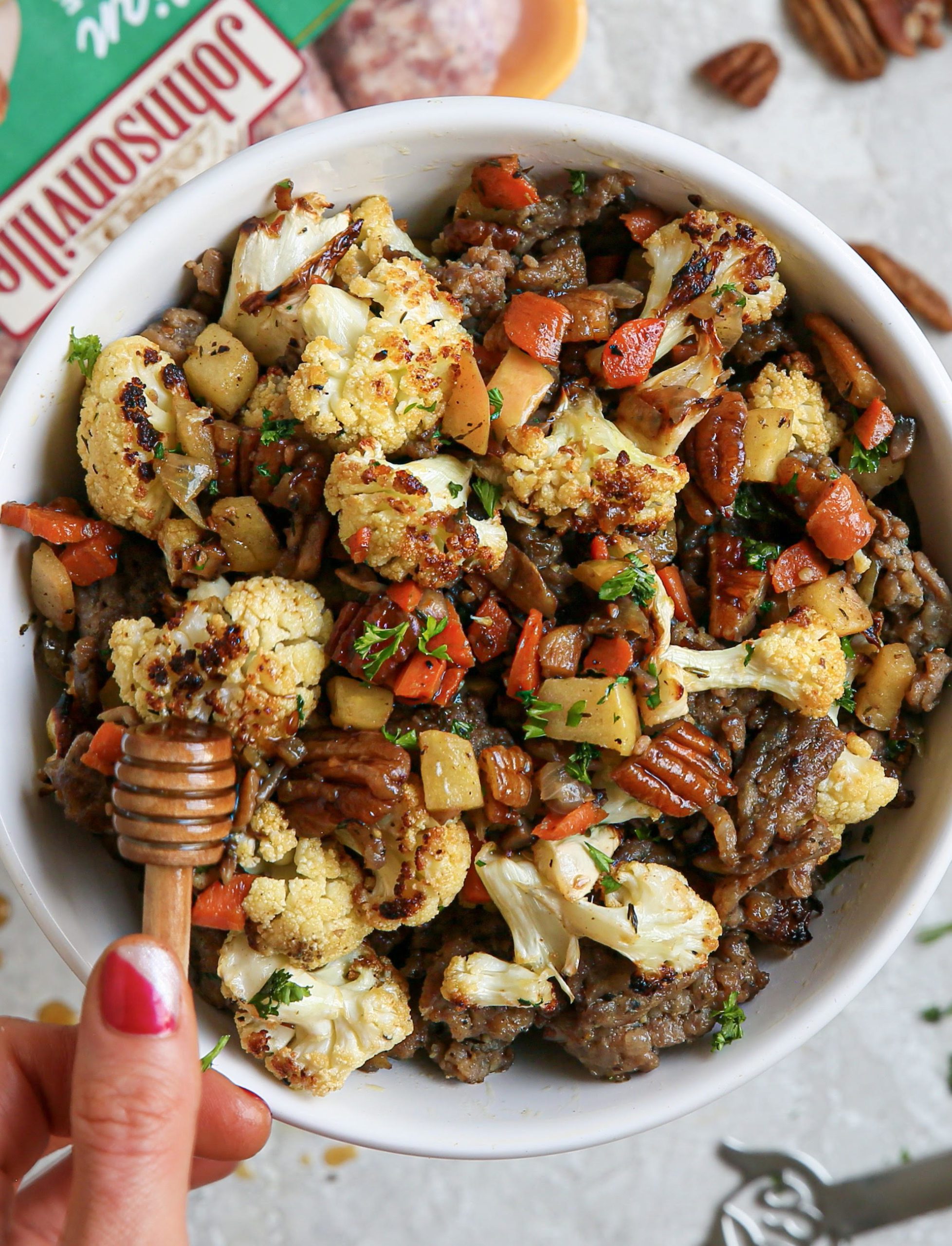 Grain-Free Cauliflower Stuffing with Apples and Sausage
Ingredients
1 1/2 tablespoon olive oil
1 head cauliflower, cut into florets
1 pound Johnsonville's All Natural Sweet Italian Sausage
1 medium onion, chopped
2/3 cup finely chopped carrots
2/3 cup chopped mushrooms
4 cloves garlic, chopped
1/2 cup chopped apples
2/3 cup pecans, chopped
1 teaspoon salt
1 teaspoon dried sage
1 teaspoon dried thyme
1 teaspoon dried rosemary
1/4 teaspoon pepper
1-2 tablespoon ghee or butter
Honey, for drizzling (Optional)
Instructions
Preheat the oven to 450 degrees F.
Toss the cauliflower with the olive oil and spread out evenly on a sheet pan. Roast for about 40 minutes until tender and crisp.
While the cauliflower is cooking, heat a large sauté pan over medium-high. Add the sausage and gently break into pieces. Sauté for about 3-4 minutes until it begins to brown.
Add the onion, carrots and mushrooms and sauté for another 4-5 minutes until the carrots become slightly tender.
Add the garlic and toss together the mixture with a rubber spatula or large spoon.
Add the apples, pecans, salt, sage, thyme, rosemary and pepper. Toss the mixture again to ensure spices spread evenly. Add the ghee or butter and toss again. Reduce heat to low and cover.
When the cauliflower is done cooking, remove the cover and add the cauliflower to the rest of the stuffing mixture. Fold the ingredients together. Continue to cook for about 2-5 more minutes until all of the vegetables are tender.
Drizzle with honey if using. Serve!