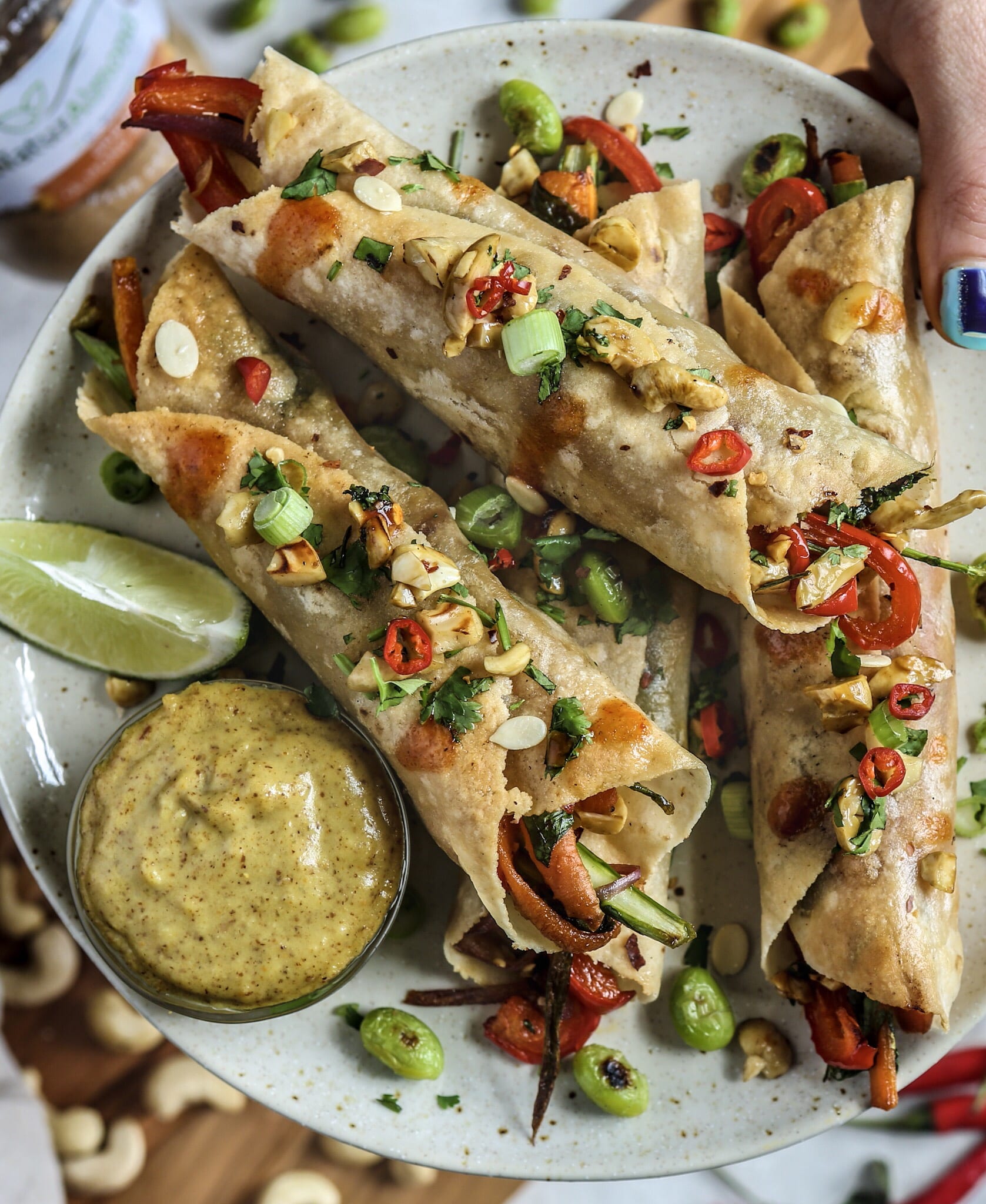 THAI VEGGIE TAQUITOS with ALMOND SATAY dipping sauce may be my new favorite. This recipe is vegan and paleo and may be the best meal I've made in a while…literally everything about this 🙃 Peep my IG highlights for some instruction and I'll post recipes below. Filled these babies with sautéed ginger/garlic/asparagus/carrots/onion plus cilantro and cashew. Seared them in coconut oil and broiled for a little extra crisp. Made the sauce with @georgiagrinders Almond butter. Topped with cilantro, chopped chilis, scallions, roasted edamame and toasted cashews.
TAQUITOS:
4 Tortillas (warmed up)
1.5 cups sautéed veggies
1/4 Cup chopped cashews
1/4 teaspoon salt
1/3 Cup cilantro
Directions: Mix sautéed veggies with chopped cashews, salt, red pepper flakes, cilantro and coconut aminos. Fill the tortillas and roll them up! Sear all sides in coconut oil on medium high then broil for crisp.
SATAY SAUCE:
1/2 cup coconut milk (full fat)
1/4 cup almond butter
1 tablespoon coconut aminos
1/3 teaspoon grated ginger
1/2 small onion grated
1/2 lime squeezed of juice
1 teaspoon curry powder
1/4 teaspoon salt
a pinch of red pepper flakes.
Directions: Bring all ingredients to boil over medium heat and stir until thick then remove.