Cauliflower "Wings" and Three Tofu Dipping Sauces
Happy 2018! One of my New Year's goals is to try to eat plant based for one day out of every week.
Inroduction
About this Recipe
So what better way to start out the year than with a new recipe? I made some curried cauliflower wings and 3 dipping sauces...and the sauces are tofu based! I hope you all had a glorious NYE and sending you light and love for the new year.
Cauliflower "Wings" and Three Tofu Dipping Sauces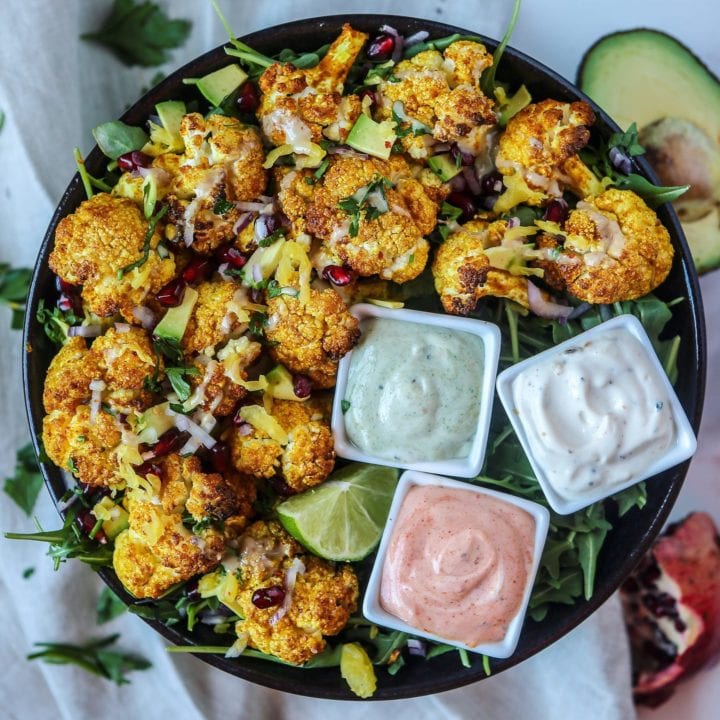 Ingredients
Cauliflower Wings Recipe:
1 small head cauliflower cut (or torn) into small pieces
1/3 cup chickpea flour
1/2 cup plus 2 tablespoons almond/cashew milk
2 teaspoon curry powder
Salt
Pepper
1 tablespoon coconut aminos
Dipping sauce:
1 package silken tofu drained
Fresh herbs or dried herb seasoning
Sriracha hot sauce (I used a green lemongrass and a Red by Fix Hotsauce)
Instructions
Preheat oven to 400.
Line a baking sheet with parchment paper.
Mix flour, milk, aminos and curry powder together.
Carefully dip each piece of cauliflower so that it is entirely coated in the batter and then place on parchment paper/ baking sheet.
I also brushed the tops with a little avocado oil to get a nice golden top.
Bake for about 25-30 mins.

Dipping sauce:
Place the drained tofu in a food processor and purée until smooth.
Divide the puréed tofu into three portions.
In one mix in some red sriracha to taste, another mix in the green to taste, and the third mix in some herbs and salt and pepper to taste.