Honey-Cashew Chicken & Broccolini
This Asian-inspired cashew chicken dish is *chef's kiss*.
Inroduction
About this Recipe
What You Need
Produce
Garlic cloves
Cashews
broccolini
Red bell pepper
Condiments
Tamari soy sauce
Almond butter
Honey
Sriracha
Chicken
Baking & Spices
Arrowroot starch
Tools
Blender
Sauté pan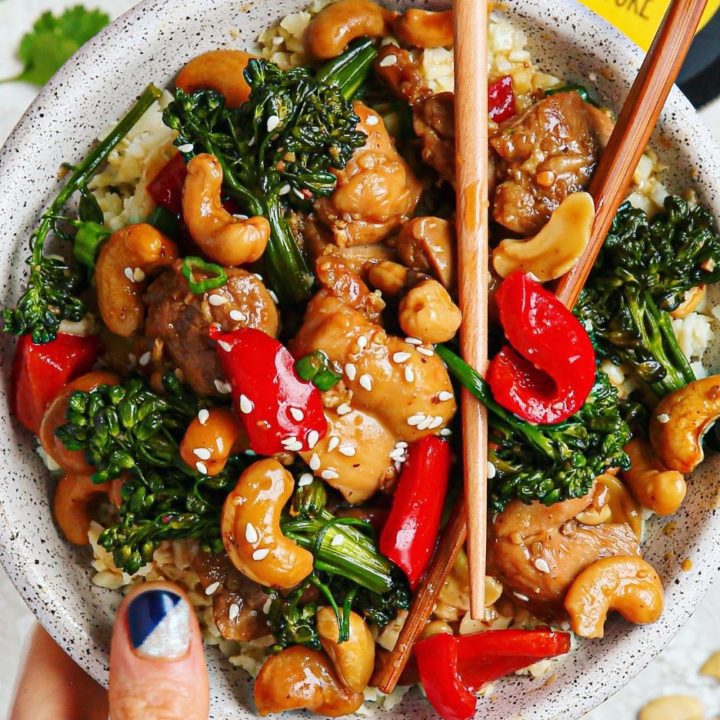 Honey-Cashew Chicken & Broccolini
Ingredients
6 tablespoons tamari soy sauce
1 tablespoon @baseculture almond butter
3 garlic cloves
3 tablespoons honey
Sriracha for sauce (OPTIONAL)
1 pound chicken, cubed (I used boneless skinless thighs but breast works too)
1 cup cashews
2 heads chopped broccolini
½ chopped red bell pepper
2-3 teaspoons arrowroot starch (or cornstarch) mixed with ½ cup water
Instructions
Blend the tamari soy sauce, almond butter, garlic and honey together. Add sriracha if you would like!
Add the chicken to a sauté pan over medium high and pour the blended sauce over it. Bring the sauce to a boil, and cook the chicken for about 4 minutes until no longer pink.Add the cashews, broccolini, and red bell pepper, and starch mixture. Cover and cook for about 3-5 minutes until veggies are tender. Mix everything together, reduce the heat to medium, and cook for a couple more minutes while the sauce continues to thicken!
Serve over rice or noodles of your choice.

*for thicker sauce, add another teaspoon of arrowroot starch mixed with a tablespoon or so of water and mix in.