There is simply nothing more refreshing to me than a flavorful tuna salad in the summer. I love getting creative with the flavors, as tuna is such a versatile protein. When I discovered Portofino tuna, I became hooked. The first time I tried it was straight from one of the travel pouches! The flavor was incredible with just three ingredients: wild caught tuna, extra virgin olive oil and sea salt. This Italian style tuna is packed in extra virgin olive oil as opposed to soybean oil as some other canned or pouches of tuna are. For me, olive oil is much more preferable for both health benefits and flavor. It's high in polyphenols and shown in studies to help support reduction of inflammation. Typically when I make tuna salad I actually add olive oil, so this limits that step for me. The tuna stays more hydrated than when it's packed in water, making the texture tender. In fact, adding a pouch of Portofino tuna to a couple slices of bread, on top of some pasta or paired with some lettuce and tomatoes makes a quick flavorful meal with plenty of good fats and protein! The pouches are easy to travel with as well.
After making a few dishes with Portofino including cheesy tuna pasta, Niçoise salad and grilled tuna burgers I got an idea to make something with an Asian flare. I was actually thinking about these spicy tuna lettuce cups from my favorite sushi restaurant. With the rich flavor of Portofino tuna, I thought it would be perfect to pair with some creamy sriracha. I made my simple creamy sriracha dip that I make with dairy free yogurt as opposed to mayonnaise, and knew immediately it was a success. I mixed in some chopped red pepper, cilantro and green onion, scooped out some avocados and stuffed them to the brim with the tuna. A little sweetness would complete this dish, so I made a simple green salad with some mango, carrots and red cabbage for a crunch.
As if this meal wasn't all ready delicious, I wanted to add one more element...a dressing that would pair well with all of these flavors. I love making dressings and often use cashew butter, almond butter or tahini to make them. I decided on almond for this one to round off the sesame in the tuna. I made a creamy almond butter dressing, similar to an Asian peanut sauce. The only way to describe this salad is "mouthwatering"! The best way to eat it is to toss the salad, drizzle on some dressing, and take a bite along with a scoop of the avocado and tuna. The crunch from the salad along with the creaminess from the avocado and tuna just completed the meal. The flavors are balanced with a little sweet, a little spicy and a little salty, and the tuna was rich and tender...better than any tuna salad I've ever had! This dish will be on repeat for a while, and my pantry will stay stocked with Portofino tuna.
Yield: 2 Servings
Sesame Sriracha Tuna Stuffed Avocado Boat Salad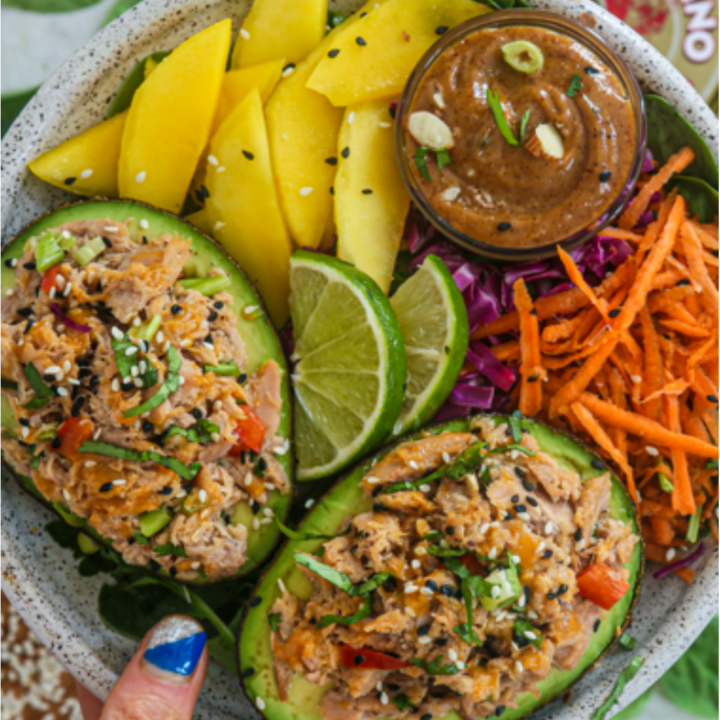 Ingredients
Dressing:
1/3 cup almond butter
2 tablespoons coconut aminos
2 tablespoons Tamari soy sauce
2 tablespoons of freshly squeezed orange juice (or honey)
1 tablespoon of lime juice
1 tablespoon sriracha
1/2 teaspoon curry powder
1 garlic clove, minced
Tuna:
1 avocado, halved and scooped out 1/3 of avocado
2 tablespoons green onion, chopped
2 tablespoons red pepper, chopped
2 tablespoons cilantro, chopped
2 tablespoons almond milk yogurt
1 tablespoon sriracha
1 teaspoon coconut aminos
1 teaspoon lime juice
1/2 teaspoon sesame oil
Salad:
2 cups baby spinach
1 cup shredded carrots
1 cup mango slices
1 cup shredded red cabbage
Instructions
1. Prepare the dressing in a small bowl by mixing together the almond butter, coconut aminos, soy sauce, orange juice, lime juice, sriracha, curry powder and garlic. Mix until smooth.

2. In another small bowl, mix together the yogurt, sriracha, coconut aminos lime juice and sesame oil.

3. Add the tuna, onion, pepper and cilantro and mix well.

4. In a large bowl, add the baby spinach, mangoes, carrots and cabbage. Arrange the ingredients side by side.

5. Divide the tuna between the two avocado halves.

6. Place the avocados on top of the spinach.Serve with dressing.

7. Enjoy!
Find what you're looking for