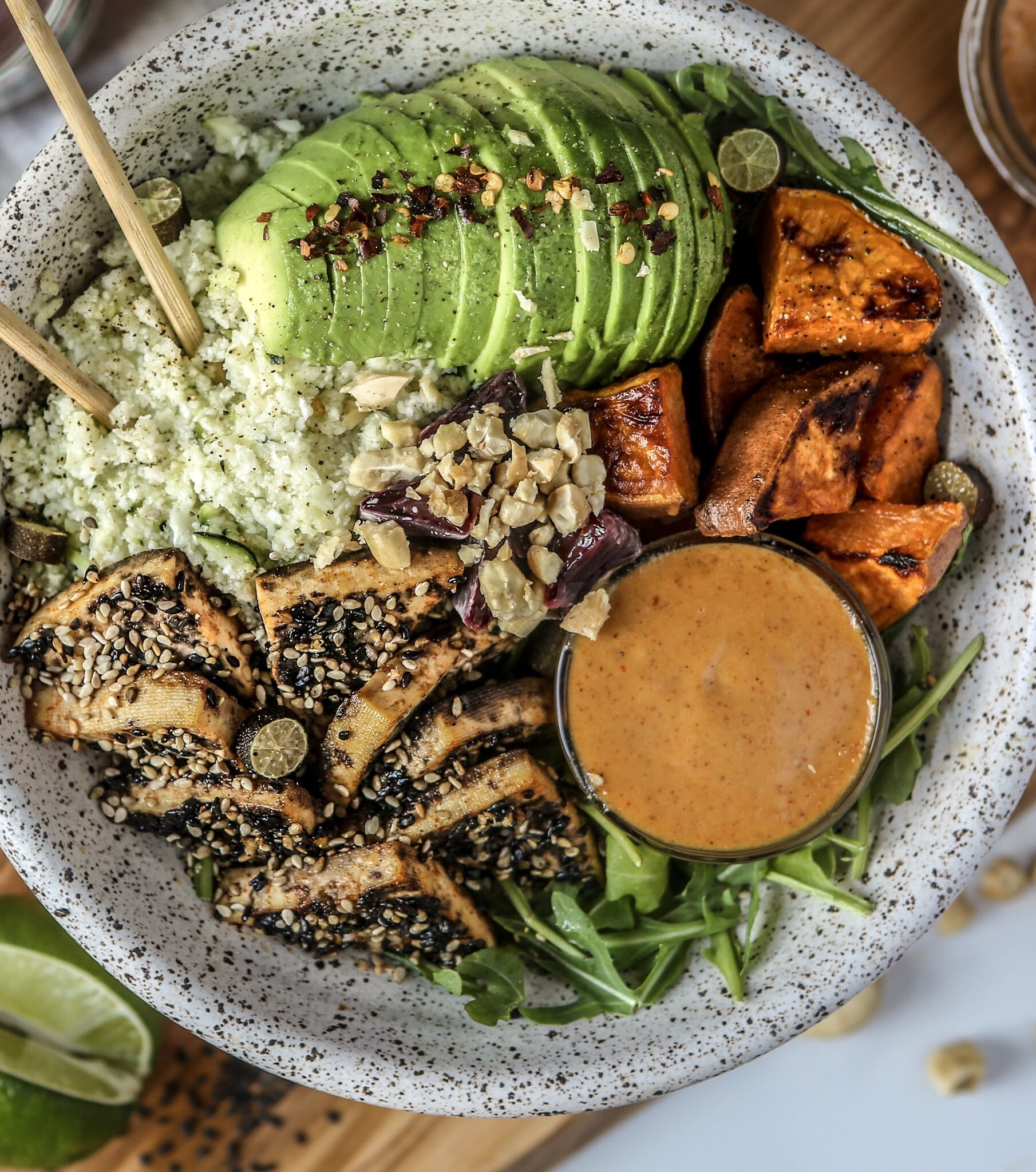 I love a good tofu dish, because tofu is just so versatile. I made this simple maple sesame tofu this week and it was delicious…sweet and crunchy! Paired it with some cauliflower rice, avocado, roasted sweet potatoes and a sriracha almond butter sauce. Recipe below!
Tofu Recipe:
Ingredients:
1 Block Firm Tofu (14oz)
1/4 Cup Braggs Liquid Aminos (or soy sauce)
2 Tablespoons Maple Syrup
1 Tablespoon Sesame Oil
1/4 cup sesame seeds (I used black and white)
Almond butter sauce (recipe below)
Instructions
Cut tofu into cubes or triangles.
Press your tofu between two paper towels and place a heavy object on top. Set aside for 15 minutes.
Make the marinade. Mix together all the marinade ingredients except for sesame seeds.
Place tofu in a bowl and pour the marinade on top. Let it sit for about 15 minutes (fridge helps).
Preheat oven to 425 and place tofu on a baking sheet lined with parchment paper. Do not discard marinade. Sprinkle sesame seeds over the tofu, then flip and sprinkle on other side. Cook for 20 minutes, and flip tofu halfway. After 20 minutes, take tofu out of the oven and carefully spoon the remaining marinade on top of the tofu. Cook for an additional 10-15 minutes…or until tofu looks caramelized and crispy. Add more sesame seeds if needed.
Almond butter Sauce:
Ingredients:
1/2 cup creamy almond butter
1 tablespoon hot water
1 tablespoon coconut aminos
1 tablespoon sriracha sauce
1 tsp lime juice
Salt to taste
Optional: sesame oil
Instructions:
Stir almond butter and hot water together. Add in remaining ingredients and whisk well. If you want to add a little sesame oil to taste add at the end.