Yield: 1
Vegan Creamy Garlic Spinach Pasta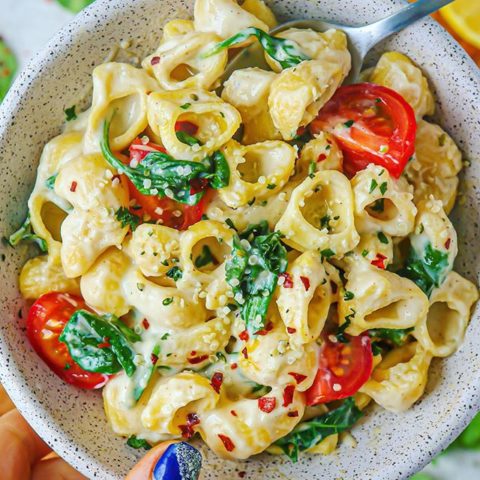 Ingredients
-1 potato, peeled
-⅓ cup onion, cut into large chunks
-1 ½ cup water
-1 cup full fat coconut milk
-1 garlic clove
-1 tbsp tahini
-½ tsp salt
-¼ tsp pepper
-¼ tsp paprika
-1 serving cooked pasta
-a handful of fresh spinach
-¼ cup tomatoes, sliced
-Optional: hemp seeds
Instructions
Add the 1 ½ cup water into a pot and bring to a boil. Add the potato and onions and cook for about 15 minutes until soft.

Blend the potatoes and onions plus 2 tbsp water from the veggies with the coconut milk, garlic clove, tahini, salt, pepper, and paprika.
Add to a pan and heat to medium.

Toss the sauce with the cooked pasta and add spinach. Add tomatoes and hemp seeds on top (optional).