Four Ingredient Teriyaki Sauce
There truly is something so comforting about homemade take out.
Inroduction
About this Recipe
I mean, Chinese food on a Friday night was always a go-to in my house. We would order lo mein and orange chicken… sweet and tangy sauces that just feed the soul after a long week. My favorite was always that brown sauce that would come with the white rice. To be honest I don't even know the name. I also was a big fan of Egg Foo Young and scallion pancakes. I'm probably going to tackle those two next. The problem is, I always dislike how I feel the next morning…heavy, groggy, tired. All of those additives and MSG, plus the ingredients I don't even know how to pronounce. As I got older and began recognizing what was in my food, I started making healthy alternatives. The taste does not need to be compromised!
Well, this FOUR INGREDIENT TERIYAKI SAUCE with this chicken and chickpea noodles is the perfect alternative. It is so easy to make, you'd probably be done making it faster than the delivery guy got there. You could easily swap the noodles out for rice, cauliflower rice, zucchini noodles or another pasta. This sauce is also delicious with shrimp, fish, or beef. It's sweet, tangy, and delicious. The best part is that it is also refined-sugar-free, sweetened only slightly with a little honey, but most of the sweetness comes from the coconut aminos and balsamic vinegar. It has a nice tang to it. Give it a try next time you're craving those flavors of Chinese take-out. I don't think you'll be disappointed.
The Sauce Consists of:
2 tablespoons tamari soy sauce
2 tablespoons balsamic vinegar
2 tablespoons coconut aminos
2 teaspoons honey
See Below for a Chicken Recipe with This Sauce!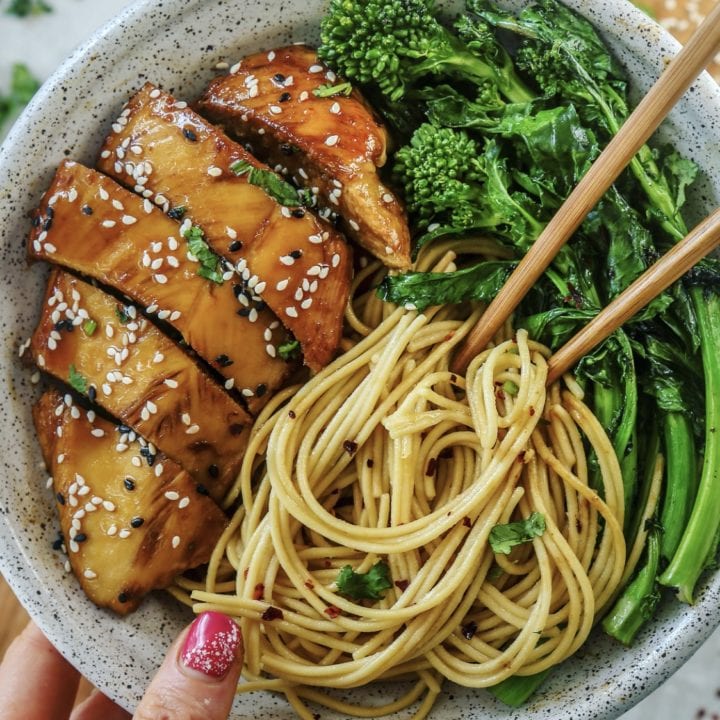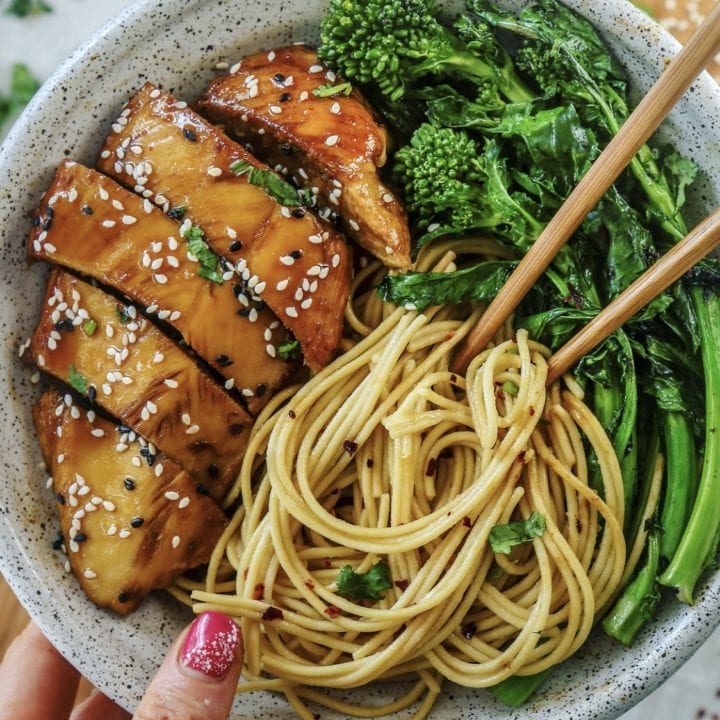 Four Ingredient Teriyaki Sauce
Ingredients
1 pound of chicken breast
2 teaspoons olive oil
1/2 teaspoon garlic powder
Salt to taste
Pepper to taste
2 tablespoons tamari soy sauce
2 tablespoons balsamic vinegar
2 tablespoons coconut aminos
2 teaspoons honey
Instructions
Preheat the oven to 350 degrees Fahrenheit.
Rub the olive oil over the chicken and season with the garlic powder, salt, and pepper.
Place the chicken on a baking sheet lined with parchment paper. Bake for about 25 minutes.
While the chicken is cooking, make the sauce by whisking together the soy sauce, balsamic vinegar, coconut aminos, and honey. Add more honey if you want the sauce to be sweeter.
Remove the chicken from the oven, and allow to rest for 5 minutes.
Slice the chicken and toss it in the sauce.
Serve with pasta with a drizzle of sesame oil and sautéed veggies. Top with cilantro and sesame seeds. Enjoy!