Dairy-Free Seafood Chowder
Budget friendly, Whole 30 approved, and SOUPER delicious and creamy. Topped with some crispy prosciutto.
Inroduction
About this Recipe
What You Need
Produce
Cauliflower
Onion
Carrots
Celery stalk
Potatoes
Shrimp
White fish (I used cod)
Condiments
Dijon mustard
Hot sauce
Baking & Spices
Salt
Cumin
Thyme
Pepper
Dairy
Coconut milk
Oil
Olive oil
Liquid
Veggie broth
Coconut aminos
Tools
Steam pot
Colander
Blender
Saucepan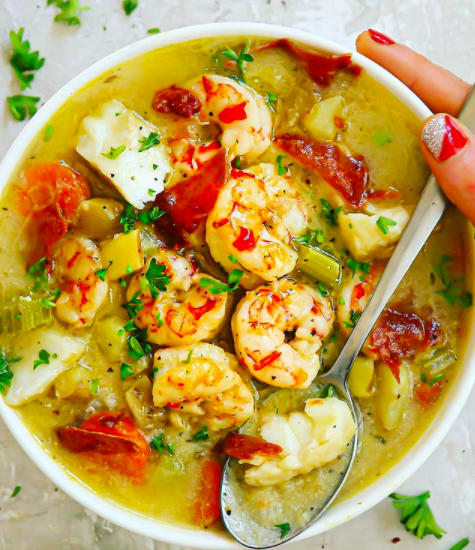 Dairy-Free Seafood Chowder
Ingredients
1/2 head chopped cauliflower
1 cup canned coconut milk
1 tablespoon olive oil
1 chopped onion
2 sliced carrots
1 sliced celery stalk
2 cups veggie broth
2 medium diced potatoes
1 teaspoon salt
1/2 teaspoon cumin
1/2 teaspoon thyme
1/4 teaspoon pepper
1 teaspoon coconut aminos
1 teaspoon Dijon mustard
1 teaspoon hot sauce
1/2 pound thawed shrimp
1/2 pound thawed white fish (I used cod)
Instructions
Steam cauliflower until tender (about 10 minutes), drain and blend with coconut milk.
Heat olive oil over medium high and when hot add onion, carrots and celery stalk and sauté for about 3 minutes, until soft.
Add veggie broth (you could sub with seafood or chicken), the cauliflower/coconut milk mix, potatoes, salt, cumin, thyme, pepper, coconut aminos, dijon mustard, and hot sauce.
Cover and cook for about 7 minutes.
Remove cover and add shrimp and white fish of choice.
Cover again and cook for another 4-5 minutes until fish and shrimp are cooked through. Top with crispy bacon or prosciutto.