White Chocolate Chip Peppermint Oatmeal Cookies
These cookies are the ideal snack for the Christmas season - especially since they have no eggs and no refined sugars. These soft and crunchy cookies are also simple to make, and can be a great treat for your guests during holiday gatherings.
Inroduction
About this Recipe
What You Need
Baking & Spices
Flax Seed
Quick oats
Almond flour
Baking soda
Salt
Coconut sugar
Candy cane
White chocolate chips (dairy-free for vegan!)
Liquids
Water
Vanilla
Coconut Oil
Nuts & Seeds
Almond butter
Tools
Baking sheet
Bowls
Parchment paper
Cup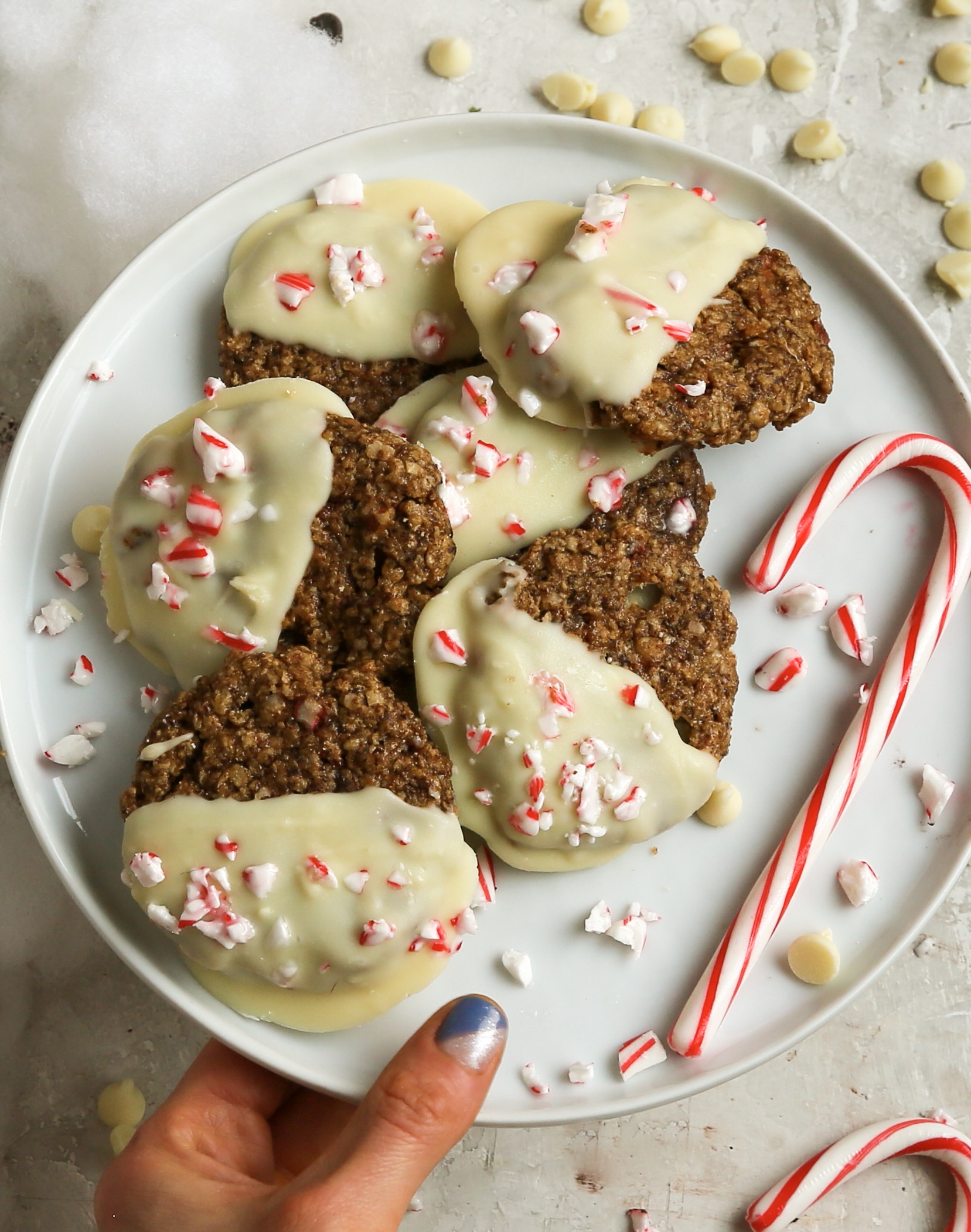 Yield: 10-12
White Chocolate Chip Peppermint Oatmeal Cookies
Ingredients
2 tablespoons flax seed
1/4 cup water
3/4 cup quick oats
1/4 cup almond flour
1/2 teaspoon baking soda
1/4 teaspoon salt
6 tablespoons almond butter
1 teaspoon vanilla
1/4 cup coconut sugar
1 1/4 cup white chocolate chips, divided (dairy-free to make it vegan)
1 candy cane, crushed into pieces
2 tablespoons coconut oil, melted and divided
Instructions
1. Preheat the oven to 350.

2. Line a baking sheet with parchment paper and set aside.

3. Add the flax seed and the water to a small bowl. Mix together and allow it to thicken for 5 minutes.

4. Add the oats, almond flour, baking soda and salt to a medium bowl and mix to combine.

5. In a separate bowl, add the almond butter, vanilla, coconut sugar and flax mixture and mix to combine.

6. Add the wet ingredients to the dry ingredients, and fold together until a sticky dough forms.

7. Add white chocolate chips plus the candy cane pieces to the dough and mix it in.

8. Drizzle coconut oil onto the parchment paper, then divide the dough into 1 inch balls. Place the balls on the parchment paper, 2 inches apart.

9. Using the flat bottom of a cup and a small piece of parchment paper, flatted the balls until they are about 1/3 inch thick.

10. Bake for 10-12 minutes, until edges are brown. Remove the cookies from the oven, and allow them to cool completely.

11. If dipping them in white chocolate, add the last cup of white chocolate chips and the last 1/2 tablespoon coconut oil to a microwave safe bowl. Heat in 20 second intervals and mix with a fork at each interval until melted.

12. Dip each cookie in the melted white chocolate and sprinkle crushed candy cane (optional). Place the cookies back onto the parchment paper as you dip. Place in the freezer for at least 15 minutes.