Italian Seasoned Shrimp and Spaghetti Squash with Balsamic and Garlic Roasted Tomatoes!
This veggie-packed meal is ideal for anyone looking into healthy options. It's easy to make and tastes heavenly.
Inroduction
About this Recipe
What You Need
Produce
Squash
Shrimp
Cherry tomatoes
Baking & Spices
Salt
Pepper
Dried thyme
Dried basil
Garlic powder
Minced garlic
Coconut sugar
Oils & Vinegars
Ghee, coconut, or olive oil for shrimp
Balsamic vinegar
Olive oil for tomatoes
Liquids
Coconut aminos
Broth or water
Tools
Baking sheet
Saucepan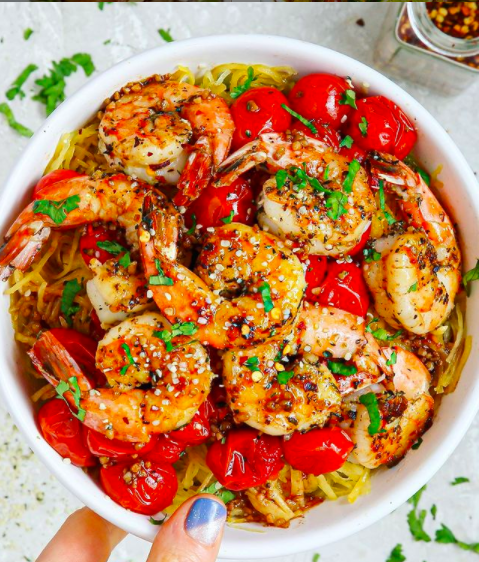 Yield:

3
ITALIAN SEASONED SHRIMP and SPAGHETTI SQUASH WITH BALSAMIC AND GARLIC ROASTED TOMATOES
Total Time:
1 hour
10 minutes
Ingredients
1 squash
1 pound shrimp (thawed, peeled and deveined).
3/4 teaspoon salt, keep 1/4 separate
1/4 teaspoon pepper
1/2 teaspoon dried thyme
1/2 teaspoon dried basil
1/2 teaspoon dried oregano
1/2 teaspoon garlic powder
1.5 teaspoon ghee, coconut oil, or olive oil
few dashes of coconut aminos (optional)
1 pound of cherry tomatoes
1 tablespoon olive oil
2 cloves minced garlic
1 tablespoon balsamic vinegar
1 tablespoon broth (or water)
Coconut sugar
Instructions
1. Pierce holes on the outside of the whole squash and bake on 3750C for 50-60 minutes (flip halfway). Cool completely and cut open and scoop out seeds.

2. To make the shrimp, first you have to pat them dry, then season with 1/2 teaspoon salt, pepper, dried thyme, dried basil, dried oregano and garlic powder.

3. When you are done seasoning, heat 1.5 teaspoon of your oil of choice over medium high and sear for 2 minutes per side. To spice it up, you can add a few dashes of coconut aminos at the end to the pan and remove the heat.

4. To make the balsamic and garlic roasted tomatoes, use cherry tomatoes. First lay the tomatoes on a pan and add 1 tablespoon olive oil, garlic, balsamic vinegar, broth (or water), 1/4 teaspoon salt (or more to taste), fresh pepper and a couple pinches coconut sugar (or you can omit for whole 30).

5. Then you can toss them in the oven and bake on 3750C for 20 minutes.