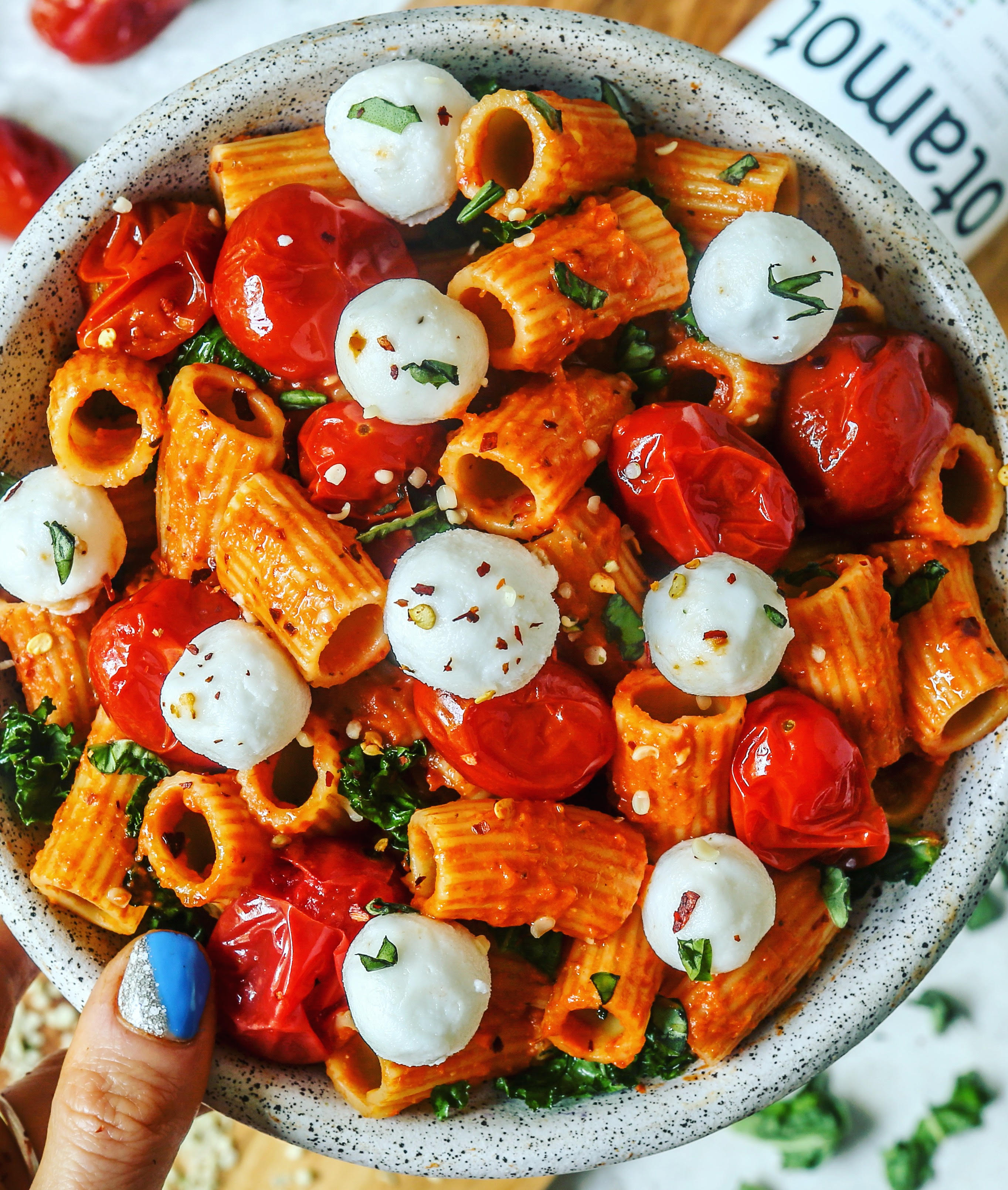 Pasta is one of my favorite foods. I mean, who doesn't love a big bowl of pasta smothered in a delicious sauce. Honestly, I am not always the biggest jarred tomato sauce fan. I'd much rather make my own. I feel jarred sauces are often missing the flavor element, so I typically end up spicing them up myself. However, I recently tried Otamot Foods Essential Sauce and was blown away! It was PACKED with flavor. I think the reason being is it is made with with over ten veggies including tomatoes, carrots, peppers, beets, spinach and mushroom. Not only does it add the flavor element, but it is full of vitamins and the texture is creamy and the taste is balanced. Even the kids loved it! We used it for a pizza sauce on Friday night and hands down the fastest I have ever seen three kids devour pizza! Our kids are picky too, ESPECIALLY about their tomato sauce and they barely like even one vegetable…so we kept the secret about the extra veggies to ourselves.
On Saturday I wanted to make a pasta dish to go along with our grill session. So, I whipped out the second jar of Otamot Foods Essential Sauce and decided to make a sauce with a little spice! The kids love a bit of a spicy flare, so I mixed some of this sauce with a small amount of hot sauce and a small amount of dairy free yogurt and added some garlic powder for an extra zing. It was absolutely delicious! I kept the dish completely vegan and used some dairy free feta that I had in the fridge along with some fresh roasted tomatoes and sautéed kale. The cheese could easily be swapped out for some fresh mozzarella balls, which I think I will try next time. Again, the kids gobbled this up faster than I could serve it! They did pick some of the kale out of course…but luckily they got their veggies in with the sauce so I ate the extra kale. 
This dish was delicious warm and just as delicious the next day as a cold leftovers, making it perfect for a summer barbecue! Just don't forget the fresh basil on top!
DAIRY FREE CREAMY SPICY TOMATO PASTA with KALE and FETA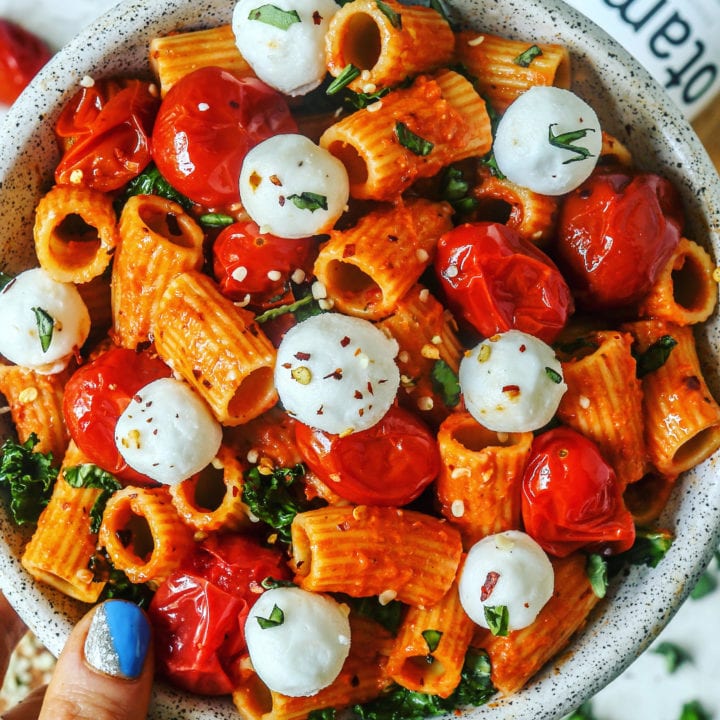 Ingredients
Pasta
8 ounces cooked pasta of choice (I used gluten free rigatoni)
3/4 cup chopped kale
1 clove garlic, thinly sliced
3/4 cup grape tomatoes, washed
2 tablespoons olive oil
Salt
Pepper
1/2 cup of dairy free feta, rolled into balls (could sub with dairy feta or mozzarella balls)
Fresh basil, chopped
Sauce
3 tablespoons almond milk yogurt
1 tablespoon hot sauce (or more)
1 teaspoon garlic powder
1/2 teaspoon salt
Instructions
1. Preheat oven to 400.
2. Toss tomatoes with one tablespoon olive oil and place in a small cast iron, oven safe pan or baking sheet. Bake for about 20 minutes until tomatoes are blistered.
3. Meanwhile, add the other tablespoon olive oil in a sauté pan over medium high heat.
4. Add garlic and sauté for about two minutes, until fragrant.
5. Add kale and toss with the olive oil and salt and pepper to taste.
6. Cover and sauté for about 5 minutes. Remove from heat.
7. Add sauce, yogurt, hot sauce, garlic powder and salt to a small sauce pan and whisk together to combine.
8. Heat the the mixture over medium heat until warm.
9. Pour over pasta! I used gluten free rigatoni.
10. Toss with kale mixture, roasted tomatoes, sauce, and top with fresh basil and dairy free feta balls.
Find what you're looking for